CO·OP Frozen Fried rice wins "UCDA Award 2021", second time since 2017
2022.02.21
CO·OP Frozen Fried rice won "UCDA Award 2021" as a product with "easy-to-understand" information on its package. This is the second time since 2017 that JCCU CO·OP Brand Product has won this award.
The Universal Communication Design Association (UCDA) Award aims to improve the information quality for consumers by recognizing communication design that is excellent in understandability. This award is determined through objective evaluations by experts and consumers, as well as rigorous deliberations by the Executive Committee.
CO·OP Frozen Fried rice having contested at "UCDA Award 2021" received "easy-to-understand information award" for its food packaging.
The following are the reasons for the award
・The characters used are not overly deformed and are easy to read.
・The layout is designed to make it easier to read the nutritional information and batch labeling, for example, by securing margins throughout the layout.
・It is designed from the consumer's point of view, with a separate box for allergens.
・Cooking methods and precautions are also explained with icons and color-coding.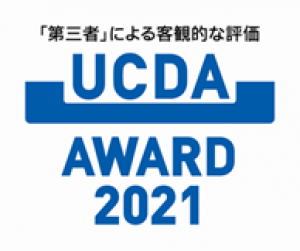 Award Ceremony in December 2021:
On December 7, 2021, the award ceremony was held at JCCU headquarters in Shibuya, Tokyo. At the ceremony, Mr. TAKEDA Kazutaka, Managing Director of UCDA, handed a trophy and a certificate to YAMADA Hidetaka, Executive Director of JCCU.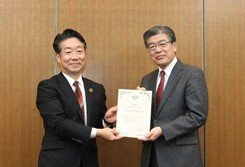 Mr. TAKEDA, Managing Director of UCDA (right) and YAMADA, Executive Director of JCCU (left)
※The face mask was removed just for the photo shooting.
Mr. Takeda of UCDA said, "The labeling was particularly well evaluated by experts and is easy to understand, including the evaluation by consumers.
Yamada of JCCU commented and expressed his aspirations for the future as follows, "We receive opinions on our products from co-op members every day. The fried rice has been improved many times to become the current package. This award is a great encouragement to our front-line staff. In the future, our task is to reflect the voices of co-op members more speedily".
In June 2015, JCCU renewed its private brand " CO·OP Brand Products" and adopted a common "CO·OP Label" that summarizes the product name and information about the product in the new package design, aiming to create a package that is easy for anyone to understand and choose.