What We Do
Our Businesses
Product Development and Supply
There are two main functions of product business of JCCU.
Development of CO·OP Brand Products: JCCU develops and improves CO·OP Brand Products to meet members' needs in their daily lives.
Distribution of products to member co-ops nationwide: JCCU manages the distribution of CO·OP Brand Products comprehensively from order management to logistics and delivery, cooperating with manufacturers for optimal management.
In addition to above, JCCU operates joint purchasing of products including national brand products and imports, makes home delivery catalogs, and organizes product promotion planning in cooperation with member co-ops.
Mail Order Business
There are two types of JCCU mail order business.
For members' daily lives: JCCU handles mainly furniture, home décor goods, and clothing. Ordered items are delivered directly to members' homes.
Seasonal gifts: JCCU offers gift items to members. Ordered items are delivered directly to designated recipients.
Orders can be placed both by order sheets for home delivery and via online.
Business Platform Development for Member Co-ops
JCCU develops business platforms:
Online membership application systems
Online ordering systems for individuals
Ordering systems of CO·OP Brand Products for member co-ops
Quality management systems for member co-ops
Building and improving distribution centers and promoting their joint use with member co-ops, etc.
Our Activities
Social Roles as a Consumers' Organization
JCCU takes initiatives to establish, improve, and advocate consumers' rights and enhance the social system.
The initiatives are as below:
Submission of public comments to the Japanese government
Attendance at and remarks to government's councils
Investigations about food safety, consumer administration, environmental affair, etc.
Publicity of the results of the actions above
Organizational Operation and Formulation of National Policy of Consumer Co-ops
JCCU supports its member co-ops in their organizational operation. Also, at the Annual General Assembly of JCCU, common policies of consumer co-ops nationwide and JCCU's business plan and policies are decided.
Before the General Assembly, JCCU hosts committees and conferences to be attended by members and staff of consumer co-ops nationwide to prepare proposals. The themes of committees and conferences range widely from daily-life matters of individual members to business strategies of consumer co-ops.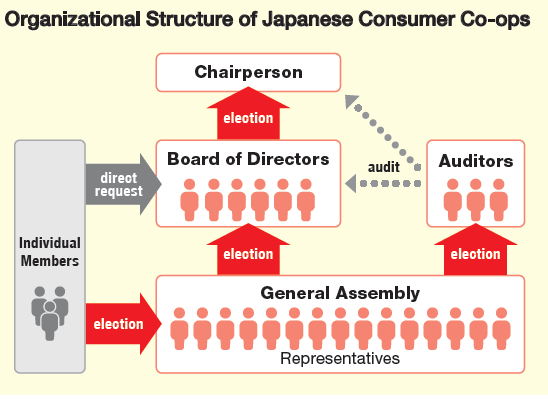 Support for Members' Activities
Consumer co-ops carry out various activities and educational programs for their members and social action programs as the member of the local community where each of them is located. The themes of activities are as below:
food education including food safety, consumer issues, family budget management, collection and release of statistics about family budget, welfare, environment, disaster reduction, support for disaster recovery at affected areas, peace movement, etc.
JCCU supports its member co-ops by holding seminars, workshops, and events, publishing newsletters and educational materials, and planning and promoting campaigns jointly held by its member co-ops nationwide.
Support for Businesses of Member Co-ops
JCCU takes initiatives to solve common challenges of its member co-ops.
The initiatives are as below:
Support for home delivery business, store business, and Sanchoku, direct transactions with producers
Legal assistance and consulting for business management
Various seminars to assist human resource development
Workshops and events
Surveys and researches
Publication of the result of investigations, statistic data, learning materials for staff of member co-ops, etc.
Cooperation with Various Organizations
JCCU cooperates with its member co-ops and other organizations, such as co-operatives, NPOs, NGOs, administrative organs, etc.
Each time a huge disaster occurs, JCCU supports reconstruction of communities and economy in the affected areas. At the same time, JCCU supports its member co-ops to hold disaster prevention seminars for members and local residents sharing experiences in and lessons learned during reconstruction support.