The second phase of the `Indonesia Shrimp Aquaculture Improvement Project' starts
2021.09.14
In July 2021, JCCU launched the second phase of the "Indonesia Shrimp Aquaculture Improvement Project." This project is an effort to achieve sustainable shrimp farming based on ASC (Aquaculture Stewardship Council) standards in the shrimp production area where raw materials for the Co-op's black tiger shrimp products are produced. The project is a collaborative effort between JCCU, WWF Japan, WWF Indonesia, and local companies.

In the first phase of the Sulawesi Island Shrimp Aquaculture Improvement Project, which lasted for three years from July 2018 to June 2021, JCCU, WWF Japan, WWF Indonesia and PT. BOMAR, the main manufacturer of black tiger products, collaborated on improving the sustainable black tiger farming industry in Sulawesi Island, Indonesia.
(L) Shrimp ponds © WWF-Indonesia / (R) Black tiger shrimp © WWF-Indonesia
The second phase, "Indonesia Shrimp Aquaculture Improvement Project," will run from July 2021 to June 2023 and will not only improve the sustainable shrimp farming industry but also address the sustainability of the natural parent shrimp resources. In addition, the "Black Tiger Aquaculture improvement Cooperation Fund" will be continued from the first phase of the project. 3 yen is set aside for every purchase of CO・OP Brand Products that use black tiger and donated to the project through WWF Japan.
Donations will be used to restore mangroves lost due to aquaculture pond development, provide training to growers, and conduct research to conserve parent shrimp resources.
Phase II "Indonesia Shrimp Aquaculture Improvement Project"
① Expansion of aquaculture industry improvement activities in South Sulawesi Province (Continuation from Phase I):
The first phase of the project will be continued, with the aim of obtaining ASC certification in cooperation with PT. BOMAR. Furthermore, the number of aquaculture ponds to be covered by the project will be expanded, the survival rate of cultured shrimps will be improved, and mangrove regeneration will be expanded.
② Start of the aquaculture improvement project in Central Java:
JCCU starts a new project in collaboration with PT. MISAJA MITRA, a local company which supplies shrimps for CO・OP Brand Products to improve the aquaculture industry with the aim of acquiring ASC certification.
③ Conservation of parent shrimp (black tiger) resources in Aceh Province, Sumatra Island :
In Indonesia, many of the young black tiger shrimps used in aquaculture ponds are hatched from parent shrimps caught in Aceh Province. In recent years, the parent shrimps have been overfished, and thus research will be conducted to conserve their resources and habitat.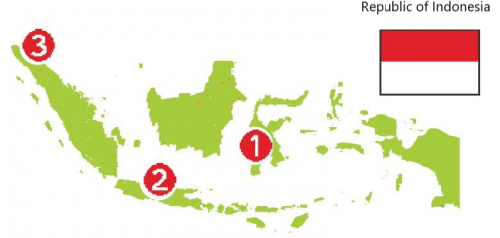 JCCU sets the following target as one of "2030 Goals for CO・OP Brand Products." :
"With regard to specification-designated products and fresh marine products that use marine products as the main raw material, we will increase the share of supply value of products certified under the certification scheme approved by GSSI to 50% or more, with an emphasis on expanding MSC/ASC certified products." (Progress in FY2020: 12.2% (MSC 10.6%, ASC 0.8%, MEL 0.8%)