JCCU received the 2nd Japan SDGs Award
2019.01.15
JCCU received the Deputy Chief of the SDGs Promotion Headquarters (Chief Cabinet Secretary) Prize at the second Japan SDGs Award.
"Japan SDGs Award" is an award system established in 2017 by a Cabinet body, the SDGs Promotion Headquarters, headed by the Prime Minister as one of its initiatives to achieve the goals of the SDGs in Japan.
The award honors companies and organizations that make excellent efforts toward achieving the SDGs and serves as an encouragement for companies and organizations in Japan to undertake SDGs initiatives.
The award ceremony was held at the office of the Prime Minister on December 21, 2018.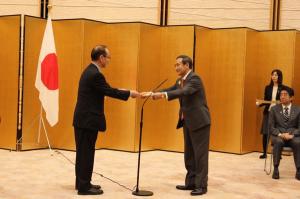 HONDA Eiichi, President of JCCU (in the left of the picture) receiving a certificate of commendation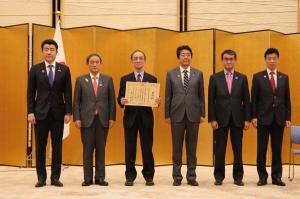 Commemorative photograph
In this award, two points were evaluated. One is the development and supply of CO·OP Brand Products by adopting the concept of ethical consumption. Secondly, as a national federation of consumer co-ops, JCCU is supporting its member co-ops nationwide in their initiatives for achieving SDGs from both sides of business and activities.
JCCU and co-ops nationwide established in 1997 The Ideal of Japanese Consumer Co-ops Movement for the 21st Century and as an "organization of mutual help" have been promoting various initiatives from both sides of business and activities aiming at realizing a sustainable society where trust and smile abound.
In order to further promote these efforts, JCCU adopted the Co-op Action Plan for SDGs at the 68th General Assembly held on June 15, 2018. This promises to contribute to the realization of SDGs through seven concrete initiatives.
For Co-op Action Plan for SDGs follow this link: /eng/feature/coop_action_plan/