JCCU launched two MSC certified canned products
2019.01.29
JCCU launched the new products, 'CO-OP North Atlantic Mackerel Fillet Marinated in Oil' and 'CO-OP North Atlantic Mackerel Fillet Boiled in Water' on December 21 2018. They are the first products certificated by MSC* as Japanese retail private brand canned food.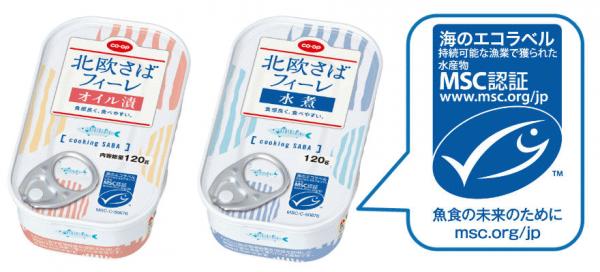 Since more and more people recently have interest in healthy food in Japan, the nutritive value like DHA, EPA that mackerel contains attracts people, which have been making canned mackerel popular. Between October 2017 and March 2018, its total sales amount all over Japan exceeded canned tuna that had been exclusively the top. (KSP-POS data by KSP-SP Co., LTD)
The new products are made using MSC certified North Atlantic mackerel that are caught in the best season, between September and December. Fishy smell is reduced by manually taking away skin and bones neatly after steaming. They have moist palatability and good taste that are unique to fatty fish in season. Moreover, they can be eaten as they are and can also be used as ingredient.
* MSC certification is a global system which sets a standard for the certification of sustainable fishing, such as protecting marine environment and fishery resources. https://www.msc.org/