CO・OP Core-non Smile School Project The -11th Donation Presentation Ceremony held-
2022.02.08
JCCU has been implementing the CO・OP Core-non Smile School Project since November 1, 2010. Under this project, one yen from the sale of every pack of "Core-non Roll" and "One-touch Core-non Roll" is donated to UNICEF to support its "Child-Friendly Schools" (CFSs) initiative in the Republic of Angola in Africa.
During the 11th phase of this project (November 1, 2020, to October 31, 2021), co-ops nationwide called on their members to purchase the products in their home delivery catalogs and in their stores resulting in a total of about 10.5 million packs of "Core-non Roll" and "One-touch Core-non Roll" being sold.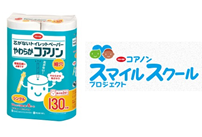 "Core-non Roll"

On December 22, 2021, the 11th donation presentation ceremony was held. Representatives from seven Core-non Roll manufacturing companies and the paper industry, which support this project, attended the ceremony and presented an inventory of about 10.5 million yen raised over the past year to Mr. HAYAMI Ken, Executive Director of Japan Committee for UNICEF.
At the opening address, Mr. FUJII Yoshitsugu, Managing Director of JCCU, stated, "This is the 11th phase since the start of this project, and the donations raised during this period have exceeded 127 million yen, enabling us to continue to support elementary schools in Angola with water facilities and improved education. I believe that this was possible thanks to the cooperation of Core-non Roll manufacturers and the support of our co-op members. I hope that the young children who have studied at the schools in Angola receiving this support will one day become the leaders of the country."
Mr. SANO Takeo, President of Marutomi Paper Co., Ltd. expressed his gratitude on behalf of the participating suppliers, saying, "I was quite impressed by the fact that such a large project can be carried out through the cooperation of manufacturers, the Japan Committee for UNICEF, and JCCU. I heard that in Angola, the percentage of children under the age of 18 exceeds 50% of the total population, and I hope that through school education, children will unite and play a role in the future of world peace. "
Mr. HAYAMI Ken, Executive Director of the Japan Committee for UNICEF expressed his gratitude towards the donation by saying, "I would like to thank you for your generous support for the children of Angola again in the 11th term of this project. In Angola, where schools were closed last year due to the COVID-19 disaster, they were finally fully reopened in April this year. We have received reports that the number of children attending the schools we are supporting has increased compared to before the COVID-19 disaster. I feel that this is due to the steady progress made in creating child-friendly schools and environments through this project."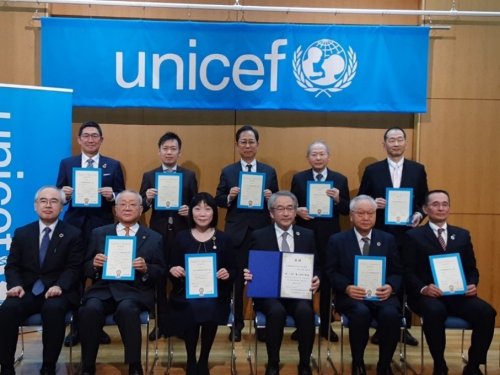 Presentation ceremony participants
JCCU and the Japan Committee for UNICEF have agreed to continue this project until October 2022 aiming at:
Installation of appropriate water supply and sanitation facilities to the schools, and support for health and hygiene education
Implementation of teacher training on pupil education
Implementation of training and development of school improvement plans to strengthen school management and promote community participation
to support the development of child-friendly schools in Angola.