Co-op Gifu Holds "Gifu Seiryu GAP" Agricultural Products Sales Fair
2023.03.07
On January 28, the "Gifu Seiryu GAP" agricultural products sales fair was held at the Co-op Gifu Nagara store.

Co-op Gifu supports the effort of the "Gifu Seiryu GAP" an initiative promoted by Gifu Prefecture for the realization of sustainable agriculture and has registered as a partner organization. This fair was held in cooperation with the Gifu Prefecture, the agricultural produce gardening department, and the National Federation of Agricultural Cooperative Associations/Gifu Prefecture Headquarters to increase awareness and consumption of Gifu Seiryu GAP agricultural products.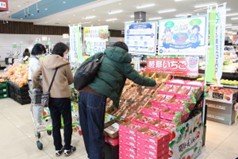 GAP is an acronym for Good, Agricultural, and Practice, and is an initiative for sustainable farming by managing risks in the agricultural production process from the perspectives of food safety, environmental conservation, and labor safety.
At the entrance, "Pepper" a robot, welcomes visitors. At a special corner in the store, mizuna (potherb masterd), komatsuna (Japanese mustard spinach), radish, broccoli, and strawberries certified under the "Gifu Seiryu GAP" are on display. In addition, panels explaining "Gifu Seiryu GAP" in an easy-to-understand manner were displayed and pamphlets were distributed.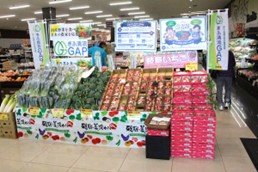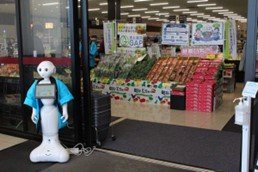 The following comments were made by the co-op members who visited the store:
"This is the first time I have heard about GAP", "I am conscious of buying products produced in the prefecture, but I did not know about GAP." They picked up the products while looking at the pamphlet.