Kyoto Co-op holds safe driving competition for its home delivery trucks
2022.11.15
Kyoto Co-op is committed to safe driving when their trucks, sales vehicles, and other business vehicles are used for home delivery services in the community. Aiming to make safe driving the norm in the community, the co-op holds a "Safe Driving Competition" for its delivery staff since 2012, and this year marks the 10th time the competition has been held. (In 2020, the competition was cancelled due to COVID-19) This competition is an opportunity to reconfirm driving skills and knowledge of laws and regulations, and to improve safe driving.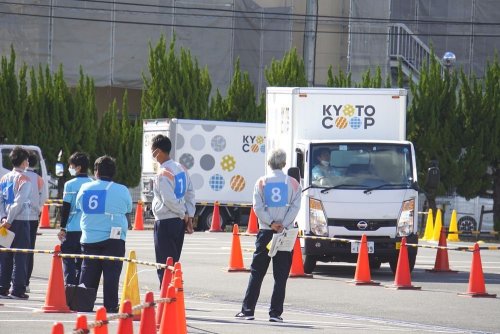 On October 29, 2022, a competition was held at Kyoto Co-op's Rakunan Branch, which was attended by more than 40 staff members.
Staff selected from each branch were divided into truck and light vehicle groups for the competition. The "Legal Driving Course" was held, in which participants drove not only in accordance with the Road Traffic Act, such as checking for safety at intersections and making sure to stop, but also in accordance with the Kyoto Co-op Driving Manual, which sets forth rules unique to Kyoto Co-op. In addition, the "Vehicle Sense Course (Sense of spatial size of the vehicle)" was also conducted with a time limit to check driving skills on narrow roads such as S-curves and cranks, driving on single bridges, and backing up.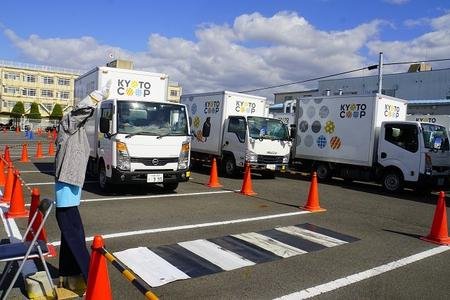 People crossing the street, giving priority to pedestrians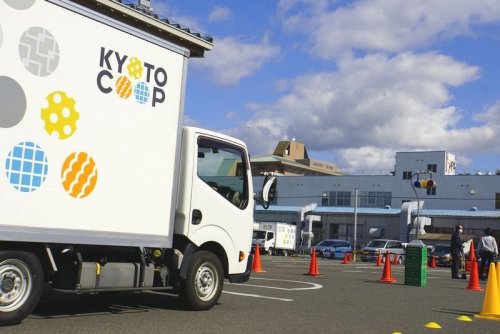 Checking for safety at intersections with a self-made traffic light

The judges will check to see if the driver is able to follow the legal driving rules, such as stopping and slowing down, as well as the rules set by the co-op.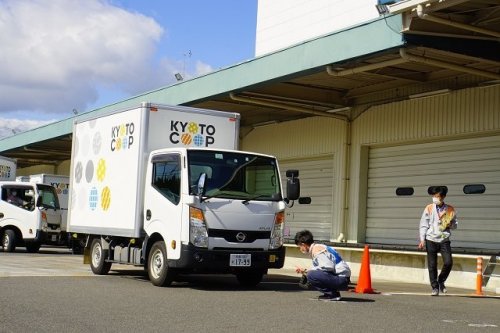 Checking the surroundings and underneath before getting in the truck.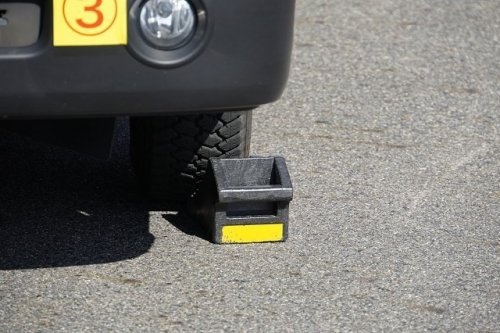 Checking wheel clamps for preventing self-propelling

Staff receiving explanations of legal test

The top two drivers in each category were giving award after competing in the "Regulation Test," "Regulation Driving," and "Vehicle Sense Driving" for each truck and light vehicle on the basis of their overall scores. After the awards, a staff expressed delight by saying, "Last year, a staff from the same branch received an award, so I was hoping for the same thing this year and I'm glad the expectation came though."

In the home delivery service, the truck drivers deliver safe products to co-op members taking great care to drive safely every day so that local residents can walk the streets with peace of mind.