Co-op Kumamoto holds Aozora Market
2022.01.25
Co-op Kumamoto has been holding "Aozora Market", where co-op members can buy products directly from producers, as a project to connect producers and co-op members. This initiative has been well received by both producers and co-op members, and the fourth "Aozora Market" was held in December 2021.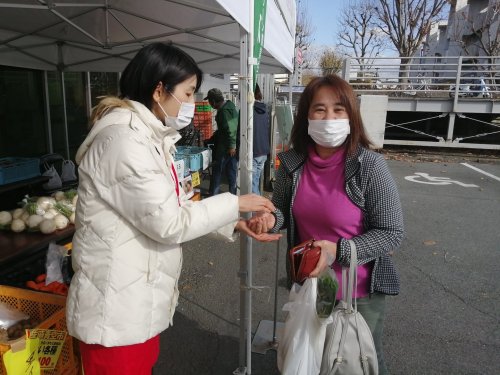 A co-op member buying directly from a producer

On the day of the December event, the weather was very cold in the morning due to the effect of strong cold air, and there were some worries about whether co-op members would come to the market, but the sun came out during the day to make it a perfect day for the Aozora Market, with the participation of 150 people.The vegetables and fruits sold for 100 yen were very popular and sold out in no time.
The number of participants who repeat to participate in the event has been increasing each time it is held. Many of the co-op members who participated in the event expressed their happiness, saying, "I usually buy products at the co-op store, but I am very happy to be able to buy directly from the producers at the Aozora Market."