2022 New Year's Message by TSUCHIYA Toshio, President of JCCU
2022.01.01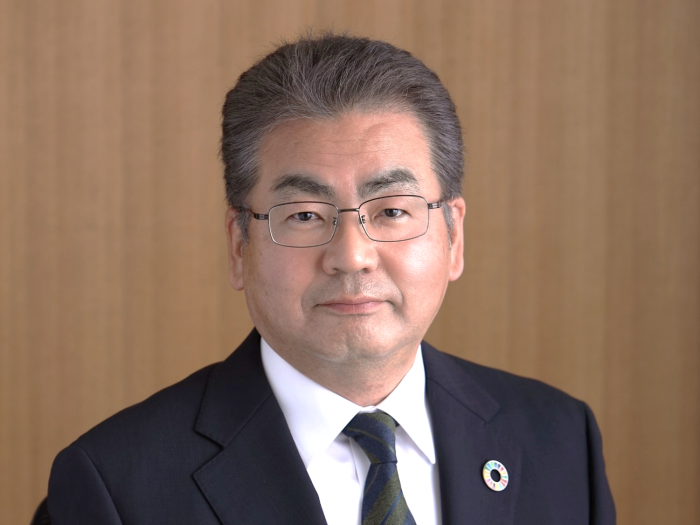 A happy new year to you all.
Since 2020, society has significantly changed due to the COVID-19 disaster. People's livelihoods continue to be greatly affected, and the contradictions and challenges facing the economy and society are becoming more apparent.
Alongside the COVID-19 disaster, extreme weather conditions due to climate change are occurring in many parts of the world, and weather-related disasters are also occurring frequently in Japan. More efforts are needed to limit the temperature rise to 1.5 degrees Celsius, as set in the Paris Agreement. Furthermore, we need to take responsible actions towards the future and realize international cooperation.
In the businesses and activities of Japanese consumer co-ops, there are also issues that need to be addressed in order to contribute to members' livelihoods and reforms are urgently needed. In the midst of increasing poverty and disparity and concerns about social isolation and divisions, the role to be played by consumer co-ops as community-based mutual aid organizations is becoming increasingly important.
In cooperation with local governments and other organizations, co-ops nationwide are making efforts to support each other's livelihoods in the wake of the COVID-19 disaster and to build social ties. Various activities are being carried out to support families in need by providing food and other supplies, raising funds, supporting health and welfare co-ops and university co-ops that were severely affected by the COVID-19 disaster, and providing food to university students.
In January last year, the Treaty on the Prohibition of Nuclear Weapons came into force. This historic agreement is a clear statement of intent for a nuclear-weapon-free world and multilateral disarmament, which is the result of the efforts of A-bomb survivors and others who have been working for the abolition of nuclear weapons. The International Signature Campaign(Hibakusha Appeal)initiated by A-bomb survivors wishing for the abolition of nuclear weapons was endorsed by consumer co-ops nationwide, and after more than four years of efforts, 2,860,899 signatures were collected and submitted to the United Nations in October 2020. We will continue to work in close cooperation with civil societies to pass on the reality of war and the atomic bombings, as well as the desire for peace and the abolition of nuclear weapons, and make steady progress toward the realization of world peace.
The "Consumer Co-op 2030 Environmental Sustainability Policy" was reported at the 71st Annual General Assembly in 2021. The Japanese government has set a goal of reducing greenhouse gas emissions to virtually zero by 2050. Together with consumer co-ops nationwide, we will work together with our members to combat global warming by reducing greenhouse gas emissions at our business sites, developing and spreading renewable energy, reducing the use of plastics and food loss, and expanding the use of products for ethical consumption.
In 2022, we will continue to live under the measures against infectious diseases. Together, let's create the future with the power of connections among all co-ops nationwide to realize the 2030 Vision.
I wish you a fruitful new year filled with happiness.
January 2022
TSUCHIYA Toshio
President, Japanese Consumers' Co-operative Union