Co-op Kagoshima holds "Rice Harvesting Class"
2021.12.28
Consumers Cooperative Society Kagoshima (Co-op Kagoshima)* has been holding "rice-growing classes" to its members as an activity to support child-rearing since 2002 and as a dietary education since 2006. Co-op Kagoshima is working on this project in Aira City, by giving members opportunities to communicate with producers and visit rice production areas.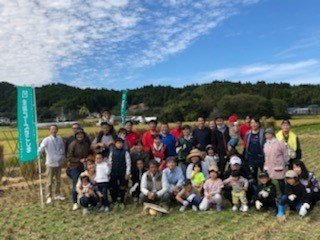 This year, the rice planting class was scheduled for June, but unfortunately, it had to be canceled due to the spread of COVID-19 infection. However, in October, when the state of emergency was lifted, it was successfully held.
On October 23, a rice harvesting class was held in the rice field of Mr. IMAMURA Kimio, a rice producer. A total of 45 people participated in this class, including 24 co-op members from 8 families, 4 producers, a member from JA AIRA (a Japanese Agricultural cooperative in Aira city), 4 people in the community who support the member activities, and 12 co-op staff.
After an introduction of the producers and a briefing on the precautions, all the participants worked hard to harvest and dry the rice. Children were chasing frogs and grasshoppers.
A competition for "home rice growing in a bucket"
The participants of the "rice harvesting class" brought their own buckets in which they had grown their rice plants. Those who were unable to come here submitted their rice plants photos and reports. Mr. IMAMURA and the staff of JA AIRA evaluated each of the entry rice, decided on the first to third place winners and presented them with certificates and prizes.
Ms. TANAKA, who came in the first place, said, "It was harder to grow rice than I thought it would be. However, after I got used to it, it became more and more fun! When the COVID-19 situation stabilizes, I would like to try rice planting! Thank you very much for this opportunity".
*Co-op Kagoshima is a consumer co-op engaged in businesses such as home delivery, stores, and welfare in Kagoshima Prefecture in Kyushu, the southernmost island of Japan, with a membership of about 320,000.