Co-op Gifu and Gifu JA Group hold 'Local Production for Local Consumption Recipe Contest'
2021.11.10
Co-op Gifu* and Gifu JA (Japan Agricultural Co-operatives) Group collaborated to organize the first "Local Production for Local Consumption Recipe Contest". It was held from May 10 to June 30, 2021, and the final screening took place on July 28. With the COVID-19 infection increasing opportunities for people to cook at home, this contest was held to encourage people to eat fresh agricultural and livestock products from Gifu Prefecture in their homes.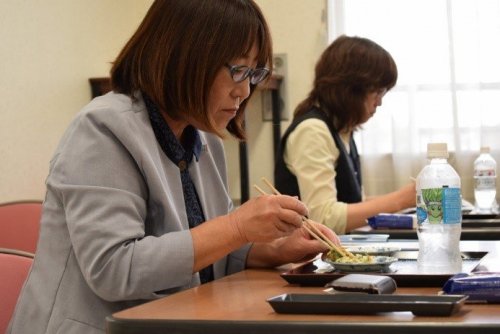 In the recipe contest, participants were asked to submit their own recipes to promote "local production for local consumption" using two or more ingredients from the 10 targeted ingredients. 116 entries were received nationwide. The 10 ingredients were: beef (Hida beef), pork (prefectural), chicken (prefectural or domestic), milk, yogurt, tomatoes, eggplant, edamame (green soybeans), summer Japanese radish, tofu, and fried tofu. Many applicants were Co-op Gifu members.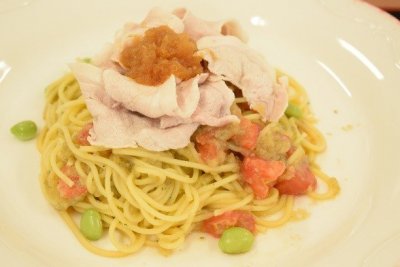 Grand Prize "Cold Shabu (boiled thin-sliced pork) Pasta with Grilled Eggplant Paste
(Photo from the official website of Gifu JA Group)
On July 28, Co-op Gifu board members participated as judges in the final screening. 8 entries that had passed the first round of screening appeared and were ranked based on their deliciousness, originality, and appearance. The judges selected "Cold Shabu (boiled thin-sliced pork) Pasta with Grilled Eggplant Paste" by a woman in Kagamihara City, Gifu Prefecture, as the grand prize winner. The following recipes were also selected as winners.
Excellence Award: "Kitsune Gyoza (dumpling)" Excellence Award: "Ganmo Burger with Soft-boiled Egg"
Meal Kit Award: "Tofu with Japanese Miso like Gratin" Milk Recipe Award: "Basque-style Cheesecake
with Edamame (green soybeans) and Carrots
* Co-op Gifu is a Consumer Co-operative mainly engaged in-home delivery and store operations in Gifu Prefecture with a membership of about 248,000 (as of March 20, 2021) and a total business turnover of about 30 billion yen (FY2020).