Co-op Sapporo installs free water dispensers and reverse vending machine at its supermarkets to reduce plastic waste
2021.09.02
Co-op Sapporo* is implementing "My Bottle Eco Action" as a countermeasure to the problem of marine plastic waste. Globally 8 million tons of plastic waste are discharged into the ocean every year and it has become a big global issue. The "My Bottle Eco Action" program considers "what each Hokkaido** citizen can do" to solve the problem of marine plastic waste. This initiative is being undertaken by the Hokkaido SDGs Promotion Platform, which was established by Co-op Sapporo in July 2019 to promote the SDGs in Hokkaido. The platform is composed of such as governments, companies, and organizations that are interested in promoting the SDGs. The following specific initiatives are being implemented as part of its activities.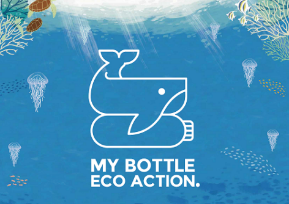 Photo Campaign:
This is an initiative to encourage the use of "My Bottle", a water bottle that can be used repeatedly instead of single-use plastic bottles. Participants are invited to take a photo of their own "My Bottle" with the town, ocean, or mountains of Hokkaido in the background, and post it on Twitter, Instagram, or other SNS with the hashtag "#MyBottleEco". For each photo, 10 yen will be set aside in the My Bottle Eco Fund, which will be used to support activities to clean up the seas of Hokkaido.
Free water dispenser at Co-op Sapporo store:
In June, Co-op Sapporo started to provide free 500ml of delicious water to anyone who brings their own water bottle to the supermarket. A total of 103 stores are scheduled to install this system this fiscal year. This will encourage people to use their own water bottles instead of single-use plastic water bottles.
Introduction of reverse vending machines at Co-op Sapporo stores:
Co-op Sapporo has been introducing reverse vending machines for used PET bottles since January 16, 2020. With the introduction of 8 new machines in June this year, 62 stores in Hokkaido are now equipped with the machines. Users put their used PET bottles into the machine in the store. The collected PET bottles are then compressed and recycled. In addition, if a user selects a social contribution activity button on the touch panel, Co-op Sapporo donates 0.3 yen per bottle towards environmental protection activities.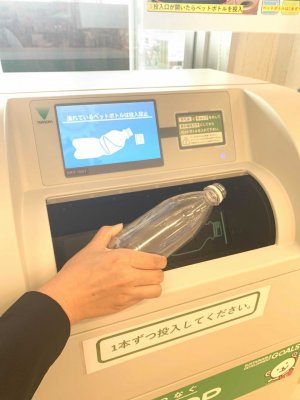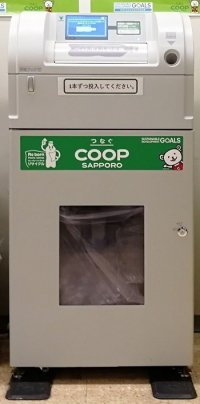 *Coop Sapporo was established in 1965 and has about 1.81 million members (as of March 20, 2020). It is mainly engaged in home delivery and store business in Hokkaido, Japan.
** Hokkaido is the largest prefecture and the northernmost island of Japan.