Co-opdeli Consumers' Co-operative Union donates 1.8 million yen to 'Japan Committee, Vaccines for the World's Children' from the sales gain on recycling of PET bottle caps
2021.07.20
The Co-opdeli Consumers' Co-operative Union* donated 1.8 million yen from the sales gain on the recycling of approximately 72 million PET bottle caps to a certified NPO, the Japan Committee, Vaccines for the World's Children (JCV.)** The caps were collected from its members in FY 2020.
On June 23, Ms. YAMAUCHI Akiko, Executive director of Co-opdeli, visited JCV office and presented an inventory to Ms. KENMOCHI Mutsuko, Board Chairman of JCV. Ms. KENMOCHI in return presented to Ms. YAMAUCHI a certificate of appreciation.
Since 2012, several member co-ops of Co-opdeli have been collecting PET bottle caps from its members at their stores and through home delivery. A total of 486 million caps have already been collected and, the total amount of donations to JCV reached 12 million yen. The JCV expressed their gratitude, saying, "We are very happy to have so many co-op members involved, and we are most grateful for everyone's kindness."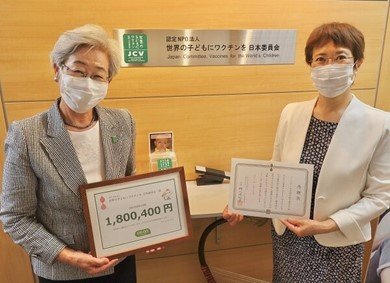 Ms. KENMOCHI, Board Chairman of JCV (left) and Ms. YAMAUCHI, Executive director of Co-opdeli (right)
*Co-opdeli Consumers' Co-operative Union is a federation consisting of seven member co-ops in Tokyo and seven prefectures in the Kanto-Shinetsu region. The total business turnover of the seven member co-ops in FY 2020 was 628.6 billion yen, and the total membership was 5.14 million.
**JCV has been working with UNICEF since 1996 to provide vaccines against the six major infectious diseases*** to countries where many children are dying from preventable infectious diseases.
As of FY2021, the four countries supported are Myanmar, Laos, Bhutan, and Vanuatu.
***Six major infectious diseases: polio, measles, tuberculosis, diphtheria, whooping cough, tetanus.