Peace Action in Okinawa - the 38th Okinawa old battlefield/base tour- held via online
2021.06.01
On March 26, 2021, JCCU and the Okinawa Consumers' Co-operative Union held the "Peace Action in Okinawa - the 38th Okinawa old battlefield/base tour -. We organized it online to give opportunities for co-op members to learn about the reality of the Battle of Okinawa, the World War II battle fought between U.S. and Japanese forces in 1945, and the US military base issues facing Okinawa today, and to think about peace.
In previous years, the event was held on-site, with co-op members nationwide gathering at Okinawa, but this year it was held online, with 52 consumer co-ops* and 516 co-op members** viewing from all over Japan.
*The number of consumer co-ops applied for viewing by March 26
**The number of participants is the number of viewers on March 26, the day of the event.
In the first half of the session, Mr.YAMAGUCHI Takeshi, Associate Professor in the Faculty of Education, University of the Ryukyus, gave a lecture.
He introduced how he has learned about Okinawa with the children of Okinawa through his own research, which gave the audience an opportunity to think about the issues on the Battle of Okinawa and the US military base in Okinawa.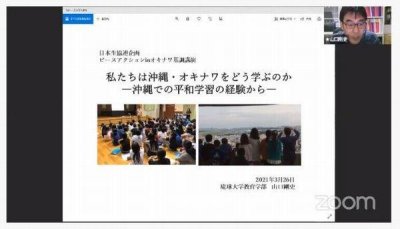 Lecture by Mr.YAMAGUCHI Takeshi, Associate Professor.in Faculty of Education, University of the Ryukyus
The second half consisted of a talk by Ms. TAIRA Keiko on her war experience and a report on peace efforts by the student committee of National Federation University Co-operative Associations Structures and Activities (UNIV.CO-OP). The student committee talked about how they organized the peace efforts in the absence of direct gathering due to the COVID-19 threat.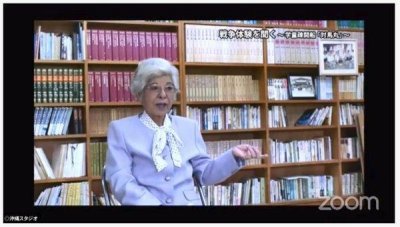 Story of the war experience by Ms. TAIRA Keiko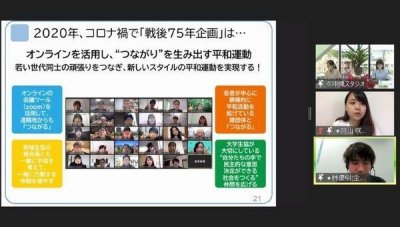 Report on the Peace Initiatives of the National Federation of University Co-ops
The following are some of the comments from the participants.
"I learned about Okinawa for the first time in this peace learning session. I was able to understand why they oppose the construction of the brand new base and the thoughts and suffering of the people of Okinawa, and it made me think about what I can do about it."
"Listening to Ms. TAIRA's war experience, I strongly felt that we must protect the peace we have in Japan today."
"I learned how to act and communicate in a manner that only a university student can do."
"It is very difficult to go to Okinawa because of the distance, so I was very happy to be able to participate in this online event."