'CO•OP Core-non Smile School Project 10th Donation Presentation Ceremony' held online
2021.02.16
JCCU has been promoting the "CO・OP Core-non Smile School Project" since November 1, 2010. This project is to help improve the educational environment for the school children in the Republic of Angola by donating funds raised from the sale of each pack of the CO・OP Brand toilet rolls, "Core-non Roll" and "One-touch Core-non Roll" in cooperation with the Japan Committee for UNICEF.
The 10th phase of the project was executed from November 1, 2019, to October 31, 2020, through home delivery catalogs and stores of consumer co-ops nationwide, yielding an amount of about 11.01 million JPY.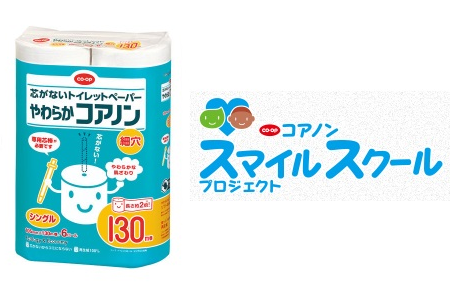 On December 22, 2020, the 10th donation presentation ceremony was held online. SHIMADA Hiroyuki, Managing Director of JCCU presented 11.01 million yen collected over the past year to Mr. HAYAMI Ken, Executive Director of Japan Committee for UNICEF.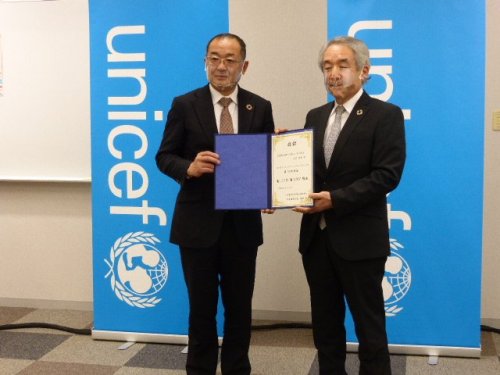 SHIMADA Hiroyuki (L), Managing Director of JCCU presents an inventory
to Mr. HAYAMI Ken (R), Executive Director of the Japan Committee for UNICEF
At the opening address, SHIMADA of JCCU mentioned that 2020 marked the 60th anniversary of CO・OP Brand Products and "Popularity Vote for the 60th Anniversary of the CO・OP Brand Products 2020" was held, which collected more than 960,000 votes. He further stated that while foods are ranked high in the vote, "Core-non Roll" and "One-touch Core-non Roll" also received the high vote indicating members' long affection for the products. He concluded by saying "education is very important in breaking the chain of poverty. I hope the young children who study at those schools will one day become the leaders of the country."
Mr. HAYAMI expressed his gratitude towards the donation by saying, "Thank you for contributing to the children of Angola for 10 years. It is said that about one in five children in the world could not attend school due to the closure of the school as a result of the COVID-19 pandemic. About two-thirds of them do not have the opportunity to have online classes while schools are closed. Children should not lose their opportunity to receive an education. Thank you for your continued support."
In addition, the representatives of each "Core-non Roll" manufacturing company who participated in the online ceremony gave messages to co-op members who are using the products.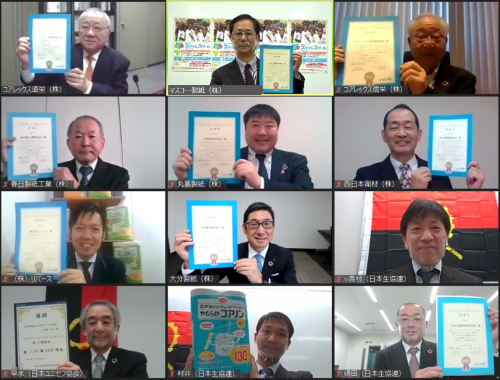 Representatives of "Core-non Roll" manufacturing companies
Since the previous presentation ceremonies were held at UNICEF House in Tokyo, it was difficult for co-op staff and members to participate, but by making it online this time, 6 consumer co-ops nationwide were able to participate. In feedback, one co-op member said, "I haven't had the opportunity to participate in the presentation ceremony, so I am glad to be part of this occasion."
JCCU and the Japan Committee for UNICEF have agreed to continue this project till October 2022 aiming at
Installation of adequate water supply and sanitary facilities in schools and training for school staff on health and hygiene education
Implementation of teacher training on pupil education
Implementation of training and development of school improvement plans to strengthen school management and promote education for parents
to support making schools in Angola more child-friendly.