Co-op Shiga Supports Citrus Ribbon Project
2021.02.04
In Japan, mental abuse against people infected with the COVID-19, their families, medical staff, and stores where clusters have occurred has become a social problem.
The Citrus Ribbon Project is a project promoted by a volunteer group in Ehime Prefecture. The project assumes that everyone is at risk of being infected with the COVID-19, and even if infected, it is important to regain a smiley life in the community. They aim to create a compassionate community where infected people and healthcare professionals, upon returning home, can express "I'm home" and "welcome back" to each other without discrimination or prejudice.
The Citrus Ribbon is made up of three loops that represent the region, home, workplace, or school with citrus-colored ribbons or strings. By simply wearing this ribbon or posting it at the entrance of one's house or mailbox he or she expresses support for the project.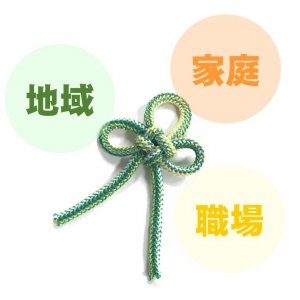 Citrus Ribbon, region, home, workplace
The project has been widely featured in the mass media and on SNS and has been endorsed by many cooperatives, municipalities, large corporations, and schools. Co-op Shiga participates in the Citrus Ribbon Project and promotes public relations and enlightenment activities in order to create a caring community together with co-op members and local residents.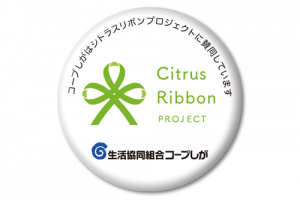 Badge, 'Co-op Shiga supports the Citrus Ribbon Project.'