U CO-OP receives letter of appreciation from Japan Association for WFP
2021.01.21
U CO-OP received a letter of appreciation from the Japan Association for the World Food Programme(WFP)for working on "Milk Fundraising" as part of their social contribution.
WFP is an institution of the United Nations that promotes economic and social development by providing food assistance to food-deficient countries and emergency assistance to countries affected by natural disasters. In 2020, WFP was awarded the Nobel Peace Prize for their efforts to overcome hunger, contribution to peace in conflict-affected areas, and their role in preventing the use of hunger as a weapon of war and conflict.
Since 2008, U CO-OP has been working on "Milk Fundraising" from June to August every year. In this initiative, one yen per liter from the sale of CO・OP Brand Milk and donations from co-op members are donated to support WFP's School Meal Program and UNICEF's "Cambodia-designated fundraising to protect children from violence and abuse". In 2020, a total amount of 6.9 million yen was donated through this initiative.
U CO-OP promotes initiatives that support children and local communities around the world with the aim of realizing the Co-op's 2020 vision of "connecting people and supporting lives."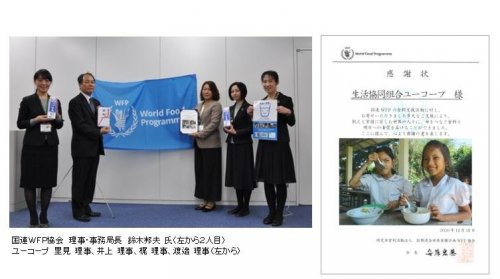 Mr. SUZUKI Kunio, Executive Director JAWFP (2nd from left)
Ms. SATOMI Rina, Ms. INOUE Emi, Ms. KAJI Shizuka, Ms. WATANABE Takayumi, boad members of U CO-OP (from left)

Milk Fundraising
Smiles and dreams for children around the world
Original Article in Japanese

https://www.ucoop.or.jp/hiroba/report/heiwa/report_29099.html