Screening of a movie 'In Memory of Dr. NAKAMURA Tetsu' held
2021.01.14
On December 3, 2020, Palsystem Saitama held a screening of the movie "Opening an irrigation canal in Drought Land Afghanistan" in memory of Dr. NAKAMURA Tetsu, 73 years old. Dr. NAKAMURA, despite being a doctor of neurology, was involved in humanitarian assistance and reconstruction activities with many citizens in Afghanistan and Pakistan which were devastated by war and drought for 35 years, but sadly on December 4, 2019, was shot dead by an armed group in Jalalabad in eastern Afghanistan.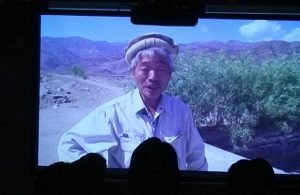 The Palsystem Peace Activity Group held a movie screening to give a deeper understanding of the trajectory of the irrigation canal construction project that Dr. NAKAMURA was involved in and to remember his death. Dr. NAKAMURA's activities in Afghanistan begin with the treatment of leprosy patients, but the patient's condition was exacerbated by the lack of adequate food and clean water for treatment. He, therefore, changed his stethoscope to a control stick for heavy machinery, expanded his activities from medical care to irrigation and agricultural support, created irrigation canals that stretch over 27 km, and supported the lives of about 500,000 farmers. On the screen, with the help of many people, the water comes to the desert, and the movie shows children smiling and playing with the water and people lively engaged in wheat harvesting.
One of the participants said, "Dr. NAKAMURA worked with his staff and the local people to build a large-scale irrigation canal for the reconstruction of Afghanistan which was devastated by the war and drought, and through the project, the devastated lands have miraculously been transformed into lush farmland."