An online exchange meeting between the staff of JCCU and iCOOP Korea held
2021.01.19
On December 9, 2020, an online exchange meeting between the staff of JCCU and iCOOP Korea was held by Zoom. In the last 10 years, education and exchange programs related to both co-ops in various ways have been conducted. In addition, both co-ops planned to visit each other's workplaces for training in 2020 but were canceled due to the spread of the COVID-19 infection. Instead, an online study session and exchanges between the staff of the two co-ops were held. A total of 32 people participated including 13 from iCOOP's SAPENet and 19 from JCCU.
At the exchange meeting, the moderator, a staff of JCCU, facilitated the discussions in Japanese and was translated into Korean by iCOOP staff. An opening remark and greeting were given in Japanese by iCOOP staff who had studied Japanese for the purpose of the exchange meeting.

In the first half, a separate study session was held for JCCU and iCOOP staff to deepen their understanding of each other's co-op. A staff of iCOOP explained about iCOOP and the SAPEnet Support Center in Japanese to the JCCU staff, while the JCCU staff reported to the iCOOP staff about the environmental efforts of JCCU and the Japanese consumer co-ops in Korean. The staff of iCOOP asked a lot of questions and commented that they had learned a great deal from the session.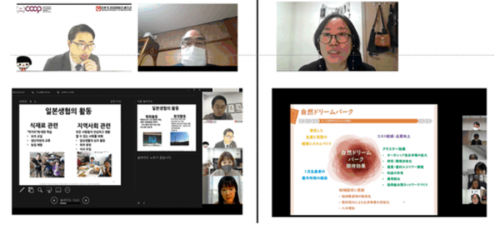 State of the study session
(left: the explanation for iCOOP staff right: the explanation for JCCU staff)
In the latter half, participants divided into 5 groups for group exchanges. Four of the groups each had an interpreter while the remaining group interacted in English.

Many questions were asked such as, "I think it is no longer possible to directly gather and carry out member activities due to the spread of COVID-19 infection, so what is your co-op doing about it?" Furthermore, they asked about each other's products and exchanged opinions regarding work and private life. In addition, interesting episodes about the products of the respective co-ops that were sent for tasting before the exchange party were shared such as "I ate without dissolving it in hot water, since I didn't know how to eat it!"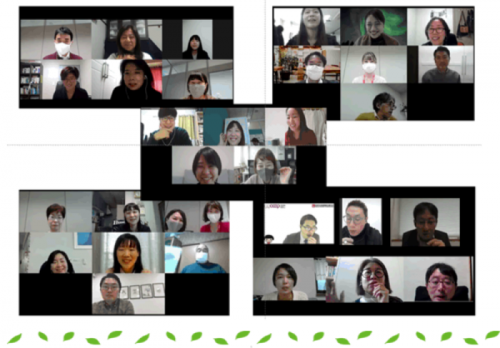 The exchange meeting took about 2 hours and there were some positive feedbacks such as "I learned very well," "I wanted a little more time for exchanges," "I want to participate again next time." It is still difficult to travel abroad due to the influence of COVID-19, but by using online, staff who could not participate in training and inspections could easily do so. Both co-ops aim to continue to build good relationships by making use of what had been learned from each other's co-ops and staff.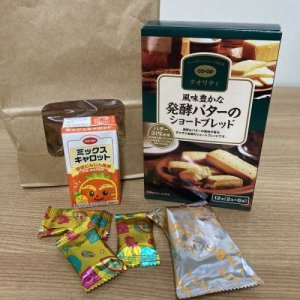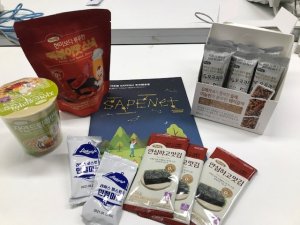 Products sent from JCCU to iCOOP  Products sent from iCOOP to JCCU