Nara Co-op unveils a truck designed to operate on the landscape of Kawakami Village, Nara Prefecture
2020.12.17
As part of the Yoshino Symbiosis Project, Nara Co-op held a ceremony to unveil a truck designed to operate on the landscape of Kawakami Village in the Yoshino area in the southern part of Nara Prefecture, which is rapidly depopulating and aging, for the purpose of publicizing the village to co-op members in the northern part where the population is concentrated.
The Yoshino Symbiosis Project is an activity aimed at deepening exchanges between the northern and southern parts of Nara Prefecture, revitalizing the lives and economies of co-op members living in the southern part, and creating a symbiotic community through mutual cooperation. Nara Co-op signed a comprehensive cooperation agreement with Kawakami Village in June 2015 and has been carrying out activities such as the sale by mobile vehicles, the home delivery business of Yoshino natural water, and donations.
The truck panel was designed by the Kawakami village local government in collaboration with 25 students of Nara Women's University. At the ceremony, following an opening speech by Mr. KURIYAMA Tadaaki, the Mayor of Kawakami Village, the concept behind the design was explained by the representative of the students.
The truck has been running in northern Nara every day since early November to promote the charm of Kawakami Village.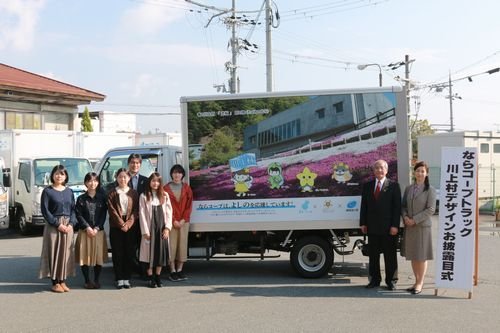 People involved in the panel design