Ibaraki Co-op supports the campaign 'Low-Salt Day' in Ibaraki Prefecture
2020.12.22
Consumer co-ops support the healthy eating habits of its members by developing and improving health support foods and proposing recipes that address health issues.
According to the "National Health and Nutrition Survey" released by the Ministry of Health, Labor and Welfare in January 2020, the daily salt intake per person in Japanese in 2018 were 10.1 grams against the target value of 8.0 grams, and for Ibaraki citizens, the value was 10.5 grams.
The governor of Ibaraki, who was worried that the mortality rate due to lifestyle-related diseases of the citizens of the prefecture is higher than the national average, thought that raising awareness of salt reduction and preventing lifestyle-related diseases would lead to the improvement of healthy life expectancy. He designated the 20th of every month as "Low-Salt Day" and called on retailers such as the consumer co-ops to cooperate in promoting sales of low-salt foods.
On November 20, Ibaraki Co-op set up a special low-salt products corner at all its co-op stores, displaying promotion signs of low-salt foods, promoted sales, and carried out public relations activities by posting posters and leaflets in the stores.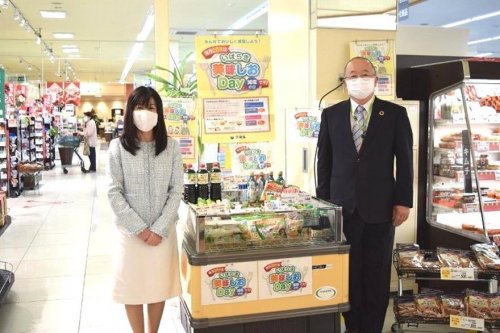 Ms.KOBA Ai, the Director of the Health and Welfare Department, Ibaraki Prefecture (Left), Mr. TSURUNAGA Yoshiji, the Chairman of Ibaraki Co-op (Right)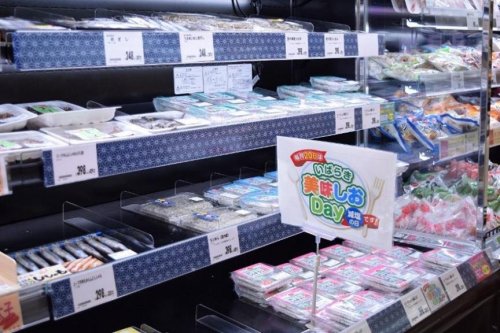 Co-op Mito store's low-salt food corner