Ibaraki Co-op starts drive-through service
2020.11.24
On October 17, 2020, the Ibaraki Co-op Mito store started a drive-through service that allows co-op members to receive items ordered online at the co-op's parking lot. It was introduced for the purpose of attracting co-op members who are concerned about shopping in the store due to the spread of COVID-19 infection, or who are too busy with work or housework to shop at the store.
Co-op members enter the online shopping site from a computer or smartphone, register as a member, select items, and pay by credit card. There is no charge for the procedure, and the ordered items can be received in as little as 3 hours from the time the order is placed. The pick-up point is the store's parking lot. Upon arriving there, shoppers give a call to inform the staff of their arrival, and staff comes around to load the items into the member's car. Pick-up hours are from 12 noon to 8:00 pm.
A Co-op member undergoing a disease treatment said, "I'm worried about getting infected with coronavirus, so I started using this service to avoid crowds. I'm very grateful that shopping online saves time compared to traditional shopping."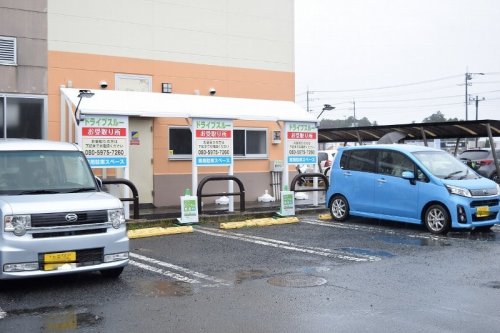 Pick-up point in the store's parking lot