Beach Cleanup Activities in Mie
2020.08.18
On July 18, 2020, officials and staff of the Mie Prefecture Consumers' Co-operative Union and its member co-ops as the members of the Mie Joint Committee of Co-operatives(MJC) took part in a beach cleanup activity in Mie which has been organized by Mie Prefectural Fisheries Cooperative Union since 1971.
MJC consisted of 13 co-operatives (currently 14) that participated in the Mie Steering Committee of the 2012 International Year of Co-operatives and were established to strengthen cooperation among cooperatives in the prefecture and to improve their social and economic status.
The cleanup activity is one of the volunteer beach cleaning activities that fisheries organizations and local residents' associations are engaged on the national holiday "Marine Day" with the aim of protecting the beautiful, rich sea. Recently, they have been encouraging people who are not involved in these works to participate and promote marine environmental conservation activities. On the day of the event, about 300 participants took part in the cleaning work in the rain on the Shiratsuka Beach in Tsu City.
Shiratsuka Beach is a sand coast with the width of about 140m from the embankment to the water's edge. It is the breeding site for loggerhead sea turtles and also a place where rare animals and plants peculiar to the coast inhabit. Participants spent an hour's time to remove litter including plastic bottles, Styrofoam boxes, empty cans, etc. that were washed ashore.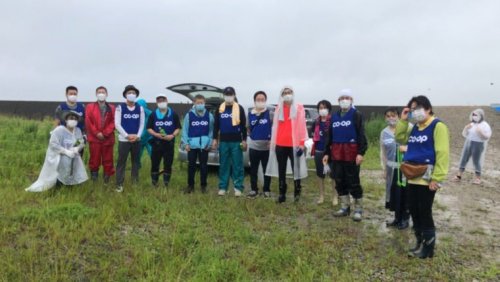 The officials and staff of member co-ops of the Mie Prefecture Consumers' Co-operative Union