The 1st dialogue meeting on Gifu City Agricultural Promotion Vision held
2020.08.25
Gifu City is formulating medium-term guidelines to systematically promote the sustainable development of agriculture that takes advantage of the local characteristics in the region.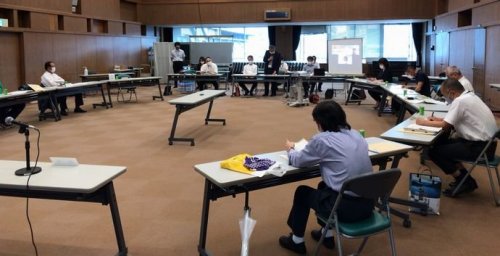 The meeting was held in order to broadly discuss and formulate Gifu City's Agriculture Promotion Vision. Nine organizations including a national university, an agricultural co-operative, a consumer co-operative participated in the meeting. Ms. ITO Risa, a board member of Co-op Gifu took part as the representative of consumer co-op.

The participants received an explanation about the role and significance of the Agriculture Promotion Vision, the proposed schedule of the dialogue and challenges, and plans for the future of the agricultural promotion. Subsequently, the participants shared many issues such as the lack of successors to farmers and the problem of worsening business conditions.
Ms. Ito introduced the case examples of Co-op Gifu and stated, "Co-op Gifu will continue to play a role in enhancing the sustainability of agriculture and the local community. There is concern that due to the influence of the new coronavirus, farm visits and exchange activities will be cancelled, but I hope that cooperatives will work together to consider new measures to continue these activities."
The next meeting will be held in August and January to draft the Vision.