Palsystem continues to support reconstruction of Kangaroo Island
2020.08.04
The massive bushfires that lasted from September 2019 to February 2020 burned more than 103,000 square kilometers (equivalent to a quarter of Japan's land area), with more than a billion wildlife such as koalas and kangaroos being killed. According to local reports, the main causes of the increased damage are said to be "global warming" and "climate change." Moreover, the economic loss is estimated to be over 1,150 million USD at present, but it is possible that it will be over 15 billion USD by 2030.
The designated production area of Palsystem's "pressed rapeseed oil" in Kangaroo Island, South Australia (an island located 112 km southwest of Adelaide, the state capital), was also severely damaged. Kangaroo Island is known as "a treasure trove of Australian endemic organisms", inhabited by koalas and platypus, but more than one-third of the island was burned down by the massive bushfires.

Since the beginning of the disaster, Palsystem has continued to support the affected areas by gathering information, sending support messages, and contributing to the local reconstruction fund. As a further support activity, Palsystem proposed to co-op members that they would donate a part of the sales amount of "pressed rapeseed oil" for two months from March to April 2020 to the disaster area. They received a great endorsement from their co-op members and a record high of more than 70,000 orders were made which enabled them to raise a support fund of 1.11 million yen.
Together with sending the support fund, Mr. SHIBUSAWA Atsushi, Managing Director of Palsystem Consumers' Co-operative Union also sent a sympathy video message to the mayor of Kangaroo Island and received an acknowledgment in return from the mayor. In addition, Mr. Tim Whetstone, the Minister for Primary Industries and Regional Development for South Australia in his letter of thanks said, "The damage to Kangaroo Island is serious and reconstruction will take a long time. We thank co-op members, staff, and executives for your continued support."
The support fund will be sent to the Kangaroo Island Mayoral Relief and Recovery Bushfire Fund for recovery of damaged houses and buildings and for human assistance.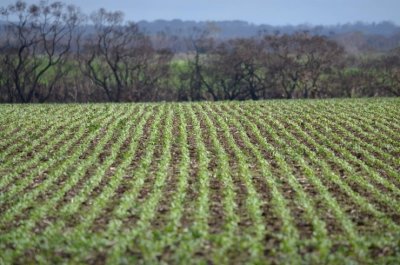 A rapeseed field that has sprouted
Pressed rapeseed oil uses 100% non-genetically modified (non-GMO) rapeseed. Palsystem has entered into an agreement with Kangaroo Island Pure Grain (KIPG), a producer company in Kangaroo Island, which is one of the few producers of non-genetically modified rapeseed, and continue to interact with them.