Food provision to Emergency Fire Response Team Fukuoka Fire Battalion
2020.08.06
A week of torrential rains, starting on July 3 and lasting until July 10, struck southwestern and central Japan, causing massive flooding and landslides (later referred to as The 2020 Heavy Rain). In particular, Kumamoto Prefecture in Kyushu was hit by record-breaking torrential rains and deadly floods, with more than 80 millimeters of rainfall per hour and 1,000 millimeters over three consecutive days.
The Fukuoka Consumers' Co-operative Union in co-operation with F-Co-op, Co-op Kyushu Business Federation, and the Tosu Delivery Center of JCCU delivered food to the Emergency Fire Response Team Fukuoka Fire Battalion which was in turn dispatched to Kumamoto in accordance with the Emergency Disaster Agreement signed by Fukuoka Prefecture and the Fukuoka Consumers' Co-operative Union.
The Emergency Fire Response Team is a fire brigade that carries out rescue and emergency activities such as lifesaving during a large-scale or special disaster that the fire fighting squad in the disaster area alone cannot put the situation under control. The team is dispatched to the disaster area from the fire departments nationwide at the request of the governor of the disaster area or the Commissioner of the Fire and Disaster Management Agency.
Fukuoka Consumers' Co-operative Union, on July 6 and 10 delivered 400 meals for 134 team members and 500 meals for 84 members respectively.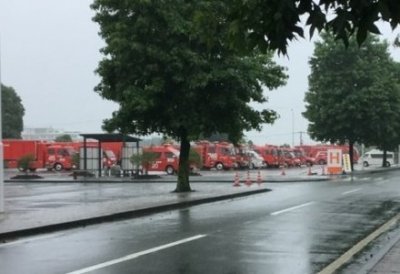 Food delivery in Kumamoto