Support for Kumamoto City's greening project, 'the project to lay lawn grass on city tram trackbed '
2020.07.21
Co-op Kumamoto donates a part of its plastic shopping bag sales to "the project to lay lawn grass on city tram trackbed" run by Kumamoto City as part of its environmental efforts.
Kumamoto City was a city full of nature and was called "Forest City" by Natsume Soseki, a great writer of the literature of the Meiji era. However, in recent years, urbanization has advanced the enriching lives of the people but having a negative impact on the natural environment.
This project is a greening project for laying lawn grass on the city tram trackbed. By creating a new green space in the area with little green, it is expected that the cityscape suitable for Kumamoto to be called "Forest City" would improve, as well as reducing the noise along the railroad tracks, and mitigating the temperature rise due to the urban heat island phenomenon.
In order to support this project, the "supporter system " has been established in Kumamoto City where the city collaborates with the businesses and citizens in the region to solicit donations to create new greenery in the midtown. The donations are being used to maintain and manage the project.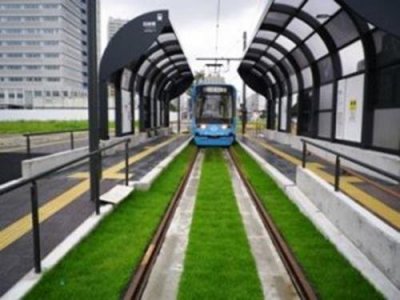 City tram trackbed lawn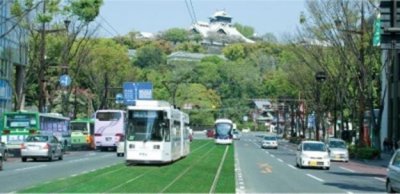 Kumamoto Castle in the background