Co-op Deli supports the production of Organic JAS certified cattle
2020.07.02
The Co-op Deli has signed a Memorandum of Understanding for cattle production with Kita-Tokachi Farm Co., Ltd. for the purpose of supporting sustainable production and consumption, support for domestic organic cattle producers, and stable product supply.
Organic livestock products are those that are produced through careful breeding methods, such as feeding livestock organically cultivated feed, not densely housed, and not subjecting them to stress. The Co-op Deli aims to support the sustainable livestock industry through the handling of Organic JAS (Japan Agricultural Standards) certified livestock products and processed products and to expand the production and use of organic livestock products in Japan.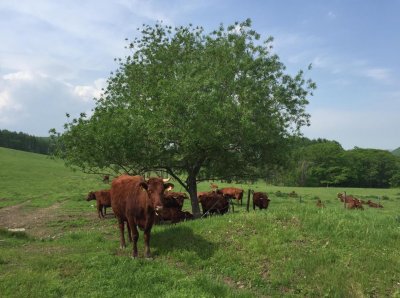 The organic JAS livestock production business requires high initial costs such as the introduction of devices for organic production. In addition, it takes about 28 months from birth to shipment for organic cattle, and since they have no income and are self-funded during that period and the producers may face some financial difficulties in running their business.
Co-op Deli buys calves born at Kita-Tokachi Farm, entrusts them with their rearing, and by paying a deposit fee every month to them, supports them to increase their turnover ratio of capital and stabilize the farm management.