Co-ops' membership and retail sales increase significantly amid the pandemic
2020.05.14
On February 28, the Japanese government issued a request for a temporary closure of schools and urged the general public to refrain from going out to prevent the spread of the COVID-19. Along with this, the demand for the use of consumer co-op's home delivery service has increased resulting in an increase of co-op membership and retail sales.
■ New Membership
The year-on-year comparisons of new membership for 51 major co-ops in Japan were announced, with results showing that in the same months of last year the number of new membership was same in January, and increased by 2.7% and 15.3% respectively in February and in March. The number of new membership was significantly higher especially in March after the stay-home request and the declaration of the state of emergency were issued by the Japanese government.
Although the business summary for April hasn't been compiled yet, the number of requests for membership application documents and application for subscription through the Web has been three to five times that of the same period of the previous year due to the fact that people want to avoid face-to-face contact.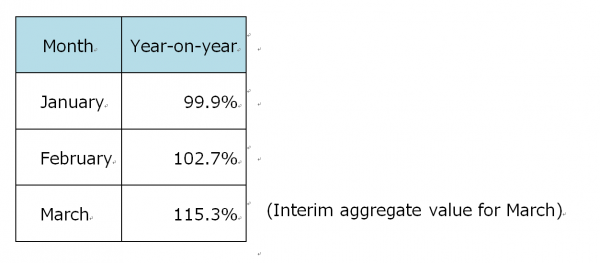 It appears that the temporal closure of schools and the increase in telecommuting have had a great impact on it. We have recently been receiving consultation from people living in studio apartments too.
■ Retail sales
In addition, the retail sales of 65 community-based retail co-ops nationwide in March 2020 were 231.6 billion yen, up 12.2% year-on-year, which have been exceeding the same month of the previous year since last month. The store and the home delivery sales increased by 9.9% and 14.2% year-on-year respectively. In the store sales, the year-on-year increase for two consecutive months was particularly due to the strong demand for rice, face masks and sanitizing products. In the category of home delivery, the government's call for staying at home accelerated the sales increase in all categories of perishables, processed foods and non-foods.