New Year's Message: HONDA Eiichi, President of JCCU
2020.01.01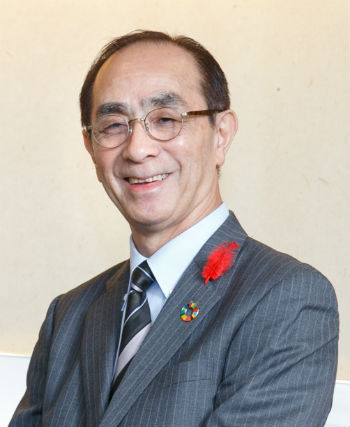 I would like to take this opportunity to wish all our Co-operative members and Co-operative colleagues around the world a sincere Happy New Year 2020. I look forward to working with you again in the spirit of cooperation in this New Year.
This year marks the 60th anniversary of the launch of the first CO・OP Brand Product, "CO・OP Butter". CO・OP Brand Products have been developed to fulfill such wishes of co-op members in each era as "safety and security", "environmental consideration", and "connection with producers". The goal of JCCU is to make those "special" features of CO・OP Brand Products ordinary for every product available in Japan. With the 60th anniversary, we will further deepen communication with co-op members and support the lives of consumers.
In April, the 2020 NPT Review Conference will be held at the UN Headquarters. JCCU will send a group of A-bomb survivors and co-op members to New York to conduct various activities including an appeal to the adoption of an agreement document that contains concrete and effective measures for nuclear disarmament and non-proliferation. Also during the conference, the Hibakusha Appeal will submit signatures to the United Nations to abolish nuclear weapons. Of the approximately 10.5 million signatures collected from around the world, more than 2.56 million signatures were collected by JCCU and its member co-ops.
JCCU's 70th Annual General Assembly to be held in June will determine the "Co-op Vision 2030" for Japanese consumer co-ops. Until now, Japanese consumer co-ops have made various social contributions in cooperation with local governments, including disaster prevention and mitigation, watching over the elderly, child-rearing support and have encouraged co-op members to participate. Since the adoption of the Co-op Action Plan for SDGs in 2018, activities based on the Plan have been advanced, such as the spread of ethical consumption, efforts to alleviate poverty and loneliness and UNICEF fundraising activities. We will continue to contribute to the realization of the SDGs in cooperation with co-operatives, governments, NPOs and all stake holders.
I pray that this year will be a fruitful year for everyone.
Japanese Consumers' Co-operative Union (JCCU)
HONDA Eiichi (President)