Iwate Co-op cooperates with Okayama Co-op disaster victim support
2020.01.16
As reported in our previous JCCU NEWS, July 2018 Heavy Rain has caused tremendous damage in the three prefectures of Hiroshima, Okayama and Ehime. Many people still live in temporary housing. Okayama Co-op, located in Okayama Prefecture, where the damage was particularly severe, holds various events for the disaster victims in addition to fundraising and volunteer activities.
Related JCCU NEWS: /eng/news/2019/09/okayama-co-ops-children-event-for-heavy-rain-victims-living-in-temporary-housing.html
On December 4, Iwate Co-op's "Hittsumi group" visited the Yanaihara temporary housing complex and served local cuisine "Hittsumi hot pot". About 20 residents and 12 members and staff of Okayama Co-op and Kurashiki City Social Welfare Council participated.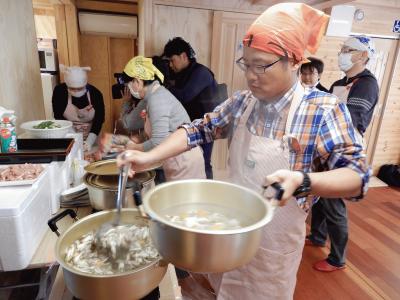 The "Hittsumi group" is a volunteer activity by members and staff of Iwate Co-op. Iwate Prefecture, where Iwate Co-op is located, is one of the prefectures that suffered enormous damage during the 2011 Great East Japan Earthquake. As a repayment to the support received from across the country for the reconstruction exercise, the group serves Iwate Prefecture's local cuisine "Hittsumi" in disaster affected areas all over Japan.
On the day of the event, all the participants enjoyed taking part in a game and subsequently exchanged their experiences during the disaster while eating "Hittsumi".
(Left) Participants tasting "Hittsumi" and Iwate apples / (Right) Group photo of participants
Okayama Co-op will continue to support victims of July 2018 Heavy Rain.