CO·OP Core-non Smile School Project donation presentation held
2020.01.23
Since November 1, 2010, JCCU and its member co-ops in cooperation with the Japan Committee for UNICEF have launched a UNICEF donation campaign under the theme "CO·OP Core-non Smile School Project" to raise funds to support UNICEF's Child Friendly Schools (CFSs) in the Republic of Angola.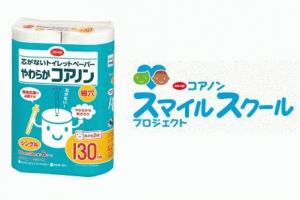 One yen from the sale of each pack of CO·OP brand toilet paper "Core-non Roll" is donated to UNICEF for CFSs. The 9th phase of our project was executed from November 1, 2018 to October 31, 2019 yielding an amount of 11.19 million JPY.
On December 17, 2019, JCCU held the 9th donation presentation ceremony at the UNICEF House in Tokyo with the participation of representatives from eight Core-non Roll manufacturing companies.
At the opening address, FUJII Yoshitsugu, the Managing Director of JCCU, stated that in recent years, Japan and the rest of the world have been working toward the achievement of the SDGs goal of "leave no one behind" and that, our project is in line with the achievements of the three goals of SDG1. "NO POVERTY", SDG4. "QUALITY EDUCATION" and SDG6. "CLEAN WATER AND SANITATION". He further mentioned that the current situation of children in the world is extremely severe due to conflicts and natural disasters. JCCU and its member co-ops in cooperation with UNICEF would continue the possible support for children.
Mr. HAYAMI Ken, Executive Director of Japan Committee for UNICEF expressed his gratitude by saying, "Improving education infrastructure is directly linked to the future of the nation" and he asked for continued support.
JCCU and the Japan Committee for UNICEF have agreed to continue this project until October 2022 aiming at:
Installation of water supply and sanitation facilities to the schools, and support for health and hygiene education.
Implementation of teacher training on education.
Research and promotion of adept school management, community participation and school improvement plan.
In order to make schools in Angola more child-friendly.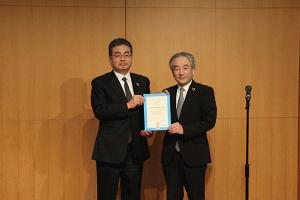 TSUCHIYA Toshio (L) Vice President of JCCU presents inventory to Mr. HAYAMI Ken (R), Executive Director of the Japan Committee for UNICEF