Miyagi Co-op supports the efforts of Children's Cafeteria
2019.07.11
Consumer co-ops nationwide are working on a variety of initiatives for children's poverty, such as participating in the activities of "Children's Future Action" in which JCCU serves as a secretariat, running scholarship programs and providing learning support to children. Among all, the most popular activity is the support of Children's Cafeterias.
Miyagi Co-op provides support to Children's Cafeterias as one of its efforts towards supporting children and childrearing and also to play their role in the social safety net. The co-op has a meeting room in almost all of its stores where co-op members can use. The co-op offers these meeting rooms to private organizations that run a Children's Cafeteria or a learning support program for children. The number of usage is increasing year by year. As of May 2019, Children's Cafeterias and learning supports are held at 11 out of the co-op's 49 stores. In addition, Miyagi Co-op has set up an inquiry contact for local residents who want to be volunteer staff for Children's Cafeterias to connect them to each private organization.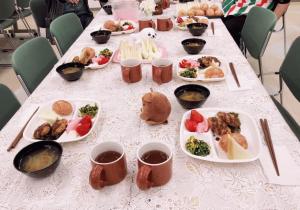 In Miyagi Prefecture, Children's Cafeterias are currently being held at over 70 places.