Okayama Co-op presents 1 Million JPY to AMDA-MINDS
2019.06.13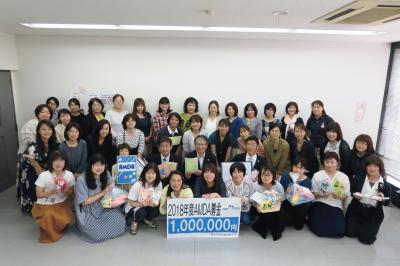 On May 16 2019, Okayama Co-op presented one million JPY as activity support grant for 2019 fiscal year to the Honduras Maternal and Child Health and Reproductive Health Project being run by AMDA Multisectoral & Integrated Development Services ( AMDA-MINDS*).
The Okayama Co-op and the AMDA Group signed an agreement in 2007 with the aim of promoting international contributions by Okayama Prefecture citizens. Okayama Co-op has declared every October as "AMDA Donation Month" and within this period the co-op calls on its members to make contributions towards the "Okayama Co-op AMDA Fund".
This fund is for AMDA's emergency relief activities for disaster victims and victims of conflicts and also for mid- and long-term social development projects by AMDA-MINDS.
From 2010 to 2012, Okayama Co-op supported AMDA-MINDS's project to assist volunteers who were supporting tuberculosis (TB) patients in the Republic of Zambia and for youth development in that country.
Since 2013, the co-op has been providing financial support (1 million JPY every year) to the "Honduras Maternal and Child Health Improvement Project" in the Republic of Honduras.
At the presentation ceremony Mr. HIRATA Shozo, President of Okayama Co-op presented a catalog/voucher representing the amount of donation to Mr. TANAKA Kazuhiro, Overseas Division Manager of AMDA-MINDS.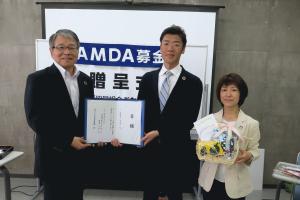 (From right) Ms. HAYASHI Hiromi Overseas Division staff of AMDA-MINDS, Mr. TANAKA Kazuhiro Overseas Division Manager of AMDA-MINDS, and Mr. HIRATA Shozo President of Co-op Okayama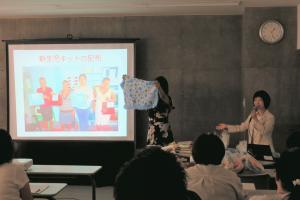 After the presentation ceremony, Ms. HAYASHI Hiromi, Overseas Division staff of AMDA-MINDS reported on the "Hondurans Maternal and Child Health Improvement Project. They have been assisting the operation of "pregnant women club" by a local health center. The club provides health education, hygiene education, free distribution of vitamin pills and newborn baby kits to pregnant women. Furthermore, with the support from Okayama Co-op, they have been assisting not only the education for pregnant women but also advancing the establishment of "kids space " for children to play.
She concluded by saying that as part of this year's agenda, the organization plans to develop echo laboratory, implement "kids club" for parent-child under 2 years and distribute "child kit" which is a set of items necessary to help kids play and for making a living.
*AMDA-MINDS is a nonprofit organization established in 2007 by the international medical volunteer group AMDA (The Association of Medical Doctors of Asia). Its predecessor is the overseas division of AMDA. Currently, it's serving seven countries in Asia, Africa and Latin America to work on the reduction of poverty and improvement of health.
https://www.amda-minds.org/english/