International cooperation rice joint shipping ceremony held
2019.04.11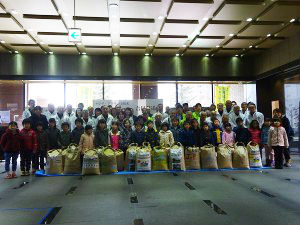 On January 17, 2019 JA Nagano CHUOKAI (Nagano Prefectural Central Union of Agricultural Cooperatives), the Nagano Prefecture Citizens' Council to Protect Food, Green and Water, the Network to Nurture Food, Agriculture and The Environment in which Nagano Consumers' Co-operative Union is a member, co-sponsored the joint shipping ceremony of the Asia-Africa support rice produced in "the international cooperation field" in Nagano Prefecture. Mr. SEKI Yoshiyuki, Managing Director, Nagano Consumers' Co-operative Union gave a greeting during the ceremony.
The International Cooperation Field Movement is a food support activity started by the JA Nagano Prefecture Group in 1998. Under this movement, rice is cultivated and harvested with the cooperation of JA, producers, elementary schools and kindergartens, residents' volunteer, labor groups and consumer co-ops in the prefecture, and sent together with rice donated from nationwide to the Republic of Mali in Africa every January to help solve food shortage problems in the country.
It is also an opportunity for participants to think about the fact that Japan's diet, which relies on foreign food import, is closely linked to global food production and hunger outbreaks. In 2018, the total amount of support rice from Nagano Prefecture was 6,273 kg.