Ibaraki Co-op Chubu Block Members' Committee held Disaster Risk Reduction Learning Session
2019.04.09
On March 4, 2019, Ibaraki Co-op Chubu Block Members' Committee held the "Disaster Risk Reduction Learning Session," with the participation of 18 people, including co-op members and staff of Ibaraki Co-op.
Disaster Risk Reduction (DRR) is to reduce damage by preparing for a disaster. Japan has many earthquakes, for example, in Mito City, the prefectural capital of Ibaraki Prefecture, the probability of an earthquake with a seismic intensity of 6 or more occurring within 30 years is said to be 81%. The committee members learned through the lecture about preparation in normal times to reduce disaster risk.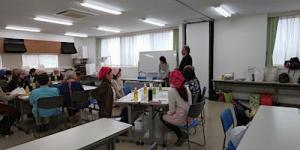 Also, the members divided into groups and participated in a card game "What to put in the emergency carry-out bag?". In the game, there is no "wrong" card. They can choose any cardー― that they think important. Also, consulting each other and making reference to the cards that other groups have chosen.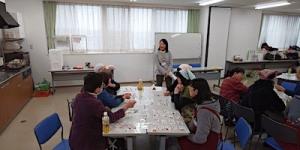 After the learning session, members challenged pouch cooking which is a cooking technique that involves cooking by putting food in a plastic bag or aluminum foil, sealing it, and boiling it in a pot. It's an easy way to cook and clean up, and multiple dishes could be cooked in one pot which is very useful in the event of a disaster. The menu was curry using canned mackerel and steamed bread (muffin). The rice for the curry was pouched rice that can be cooked simply by just pouring hot water into the pouch.
In addition, while doing pouch cooking, the members made slippers with newspaper and mask with kitchen paper. Both are useful items that could be used at shelters and evacuation centers.
Comments from participants:
I felt the importance of preparing for an emergency in normal times.
I was surprised to learn about pouch cooking.