Sustainable Brand International Conference Tokyo 2019 held
2019.03.28
At the "Sustainable Brand International Conference 2019 Tokyo" held from March 6 to 7, 2019, HONDA Eiichi, President of JCCU and FUTAMURA Chikako Operating Officer / Director of Member Relations Division, took part in the workshop as panelists.
The "Sustainable Brand International Conference" is one of the world's largest conferences on sustainability, launched in the United States in 2006, with the aim of incorporating sustainability into management and enhancing corporate competitiveness and brand value. Sustainable Life Media Inc. based in San Francisco, USA produces events and cultivates communities of interest to facilitate the shift to a flourishing and sustainable economy. In 2018, they held conferences in 13 cities in 12 countries.
This year's conference took the theme "Redesigning THE GOOD LIFE". About 150 domestic and overseas companies, representatives from NGOs and experts participated as speakers in the Plenary Sessions, Workshops, and Breakout Sessions to deepen discussions with audience.
At the workshop "Redesigning Local Economy" with a focus on retailing, in which Dr. ADACHI Naoki, CEO of Response Ability, Inc., was the facilitator, HONDA Eiichi, President of JCCU, Mr. OKANO Yukata, Executive Officer of Natural Capital Department, A Zero inc, and Mr. YAMADA Taku, CEO of CHURABOSHI.COM played the role as panelists. Mr. OKANO and Mr. YAMADA introduced the new business model set up by their companies in Okayama and Gifu Prefectures respectively. HONDA Eiichi spoke about consumer co-ops' efforts aimed at solving social issues and new value creation for over 100 years. They together exchanged views on the future of communities and regional economies.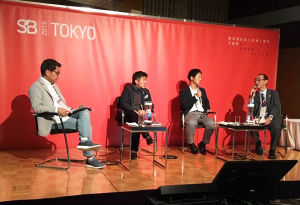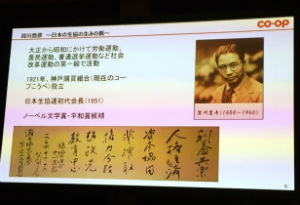 (L)Rightmost HONDA, President of JCCU
(R)HONDA's presentation about KAGAWA Toyohiko, "Father of the co-op movement in Japan"
At the workshop "Ethical Consumer" focusing on consumer behaviors, Ms. NINOMIYA Kaoru, Director CSR of Calbee, Inc. acted as the facilitator with four panelists, Mr. MAMABE Takayuki, Manager of Sustainability Promotion Dept., Rakuten, Inc., Ms. IWAKI Keiko, Committee on Environment Nippon Association of Consumer Specialists, Ms. MIYAKE Kaori, Executive Officer CSR & Communication, AEON Co., Ltd, and FUTAMURA Chikako, Operating Officer (Member Relations) of JCCU. They exchanged views on consumption and how consumers can influence businesses under the following headlines, "The future of the society and culture could be made through consumption," "Information gathering ability, understanding ability, and selective ability are important to consumers", "Consumer education that could allow one to learn " life of things " is important".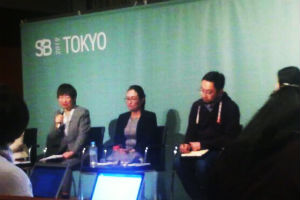 Leftmost FUTAMURA, Operating Officer (Member Relations) JCCU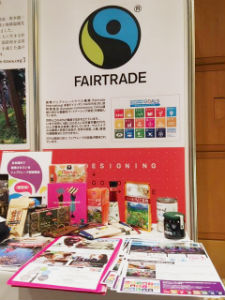 State of the exhibition: exhibiting "CO・OP Organic Darjeeling Tea Bag" at the fair trade booth