Hide-And-Seek Game using a smartphone app at The 39th Hachioji Ginkgo Festival
2019.03.19
Hachioji City in Tokyo holds "Hachioji Ginkgo Festival" every year with an executive committee consisting of volunteer citizens in cooperation with companies, organizations and citizens' groups. This year, Tokyo Consumers' Co-operative Union and its six member co-ops jointly took part in the festival as members of the committee and run a booth of watch over and searching simulation experience to introduce a smartphone app "Mimamoriai app" (App to watch over elderly and other people in need in the local community).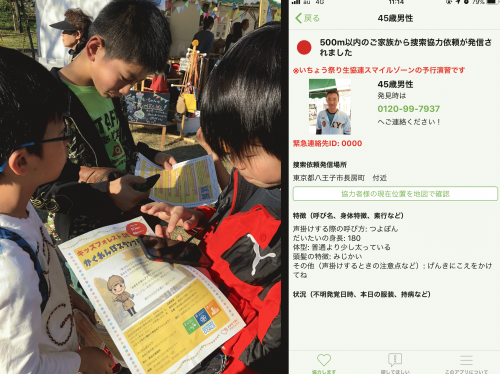 (L) State of participants in the game / (R) The app menu "Information of the target" for the game
A general incorporated association Safety Net Linkage(http://snl.jp/

)provides "Mimamoriai app" which is a helpful tool that enables the users to ask other users to look for someone based on given information about the person they want to find in an emergency. Assumed users are families of aged persons and staff of elderly care facilities. The users can set a range of investigation to a radius of 500m to 20km and send an investigation request to only those users in the range. A toll-free telephone number is set for the requester and the information about the target person is automatically deleted after the investigation is over. Therefore, the requester, the collaborators, and the target person can keep their personal information safe and secure during and after the investigation. The app is free of charge, however to register as a requester requires initial cost and monthly fee.
Since the idea of this app meets consumer co-ops' idea of mutual cooperation, Tokyo Consumers' Co-operative Union and member co-ops had deliberated on its use and decided to introduce the app at the 39th Hachioji Ginkgo Festival.
The watch over and searching simulation experience was introduced as a hide-and-seek game. The participants downloaded "Mimamori app" and received "search request" and "Information about the target person" for the game. Then they looked for the target person utilizing the information they have received and called out to him/her by nickname given in the search information when they find out the target person. It is important to call out to the target person by nickname on actual investigation. Participants who found 5 people could get a gift, which motivated them to try the game with excitement.
Hachioji City has already introduced "Mimamoriai Project" using "Mimamoriai App". Hence those who took part in the game at the festival became the members to watch over their local area and they continue to be as long as they keep the app. Furthermore, the festival was a good opportunity for the participated Co-ops to introduce themselves to people in Tokyo.