Expecting Consumer Co-ops with enough potential to change consumption behavior - A dialogue with Ms. TAGUCHI, Director of ILO Office for Japan
2019.02.12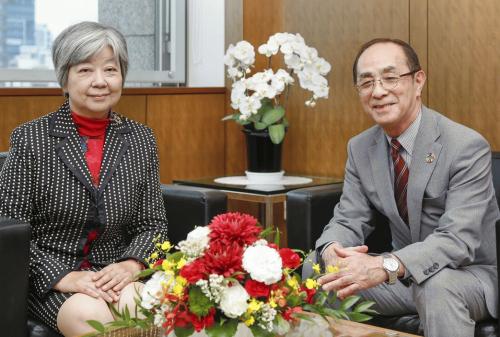 Expecting Consumer Co-ops with enough potential to change consumption behavior through product development and supply
-A dialogue between Ms. TAGUCHI Akiko, Director of ILO Office for Japan and HONDA Eiichi, President of JCCU-
At the JCCU's 68th General Assembly held in June 2018, the 'Co-op Action Plan for SDGs' which is committed to contributing to SDGs was adopted. Ms. TAGUCHI, Director, ILO Office for Japan talked about how Co-op can contribute toward achieving SDGs.
ILO and co-operatives have a common philosophy
HONDA:
International Labour Organization (ILO) is working on solving problems regarding the world of work. Am I right to say that it has been historically deeply involved with co-operatives?
TAGUCHI:
ILO was founded in 1919, the year the Treaty of Versailles that ended World War 1 was signed. The poor working conditions that brought poverty spread in the confused society and caused war and revolution. Solving this situation was the purpose of its foundation. ILO recognized the importance of co-operatives from the very beginning and set up a cooperative unit in the following year of its establishment, which is still active.
HONDA:
The origin of the modern consumer co-op dates back to 1844 where artisans in Rochdale in the UK started to purchase and supply goods themselves to oppose to bad quality goods sales and unfair dealings. So we can clearly see the common philosophy that ILO and co-operatives have when we think about the story of their foundation.
TAGUCHI:
Albert Thomas, the first Director-general of ILO was also one of the leaders of the co-operative movement in France and had a talk with KAGAWA Toyohiko* in Japan in 1928.
HONDA:
KAGAWA promoted the co-operative movement and the labor movement in Japan to prevent poverty. It's impressive that the relationship between Thomas and KAGAWA seems to continue into the current relationship between ILO and Japanese co-operatives. Since 2010 JCCU has been organizing study tours to Japan for African co-operative leaders every year in cooperation with ILO. Furthermore, JCCU has dispatched staff to the ILO headquarters in Switzerland since 2014.
Working together for the achievement of SDGs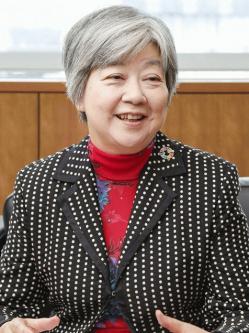 TAGUCHI:
What ILO promotes is Decent Work. We have set our goal to achieve "Decent Work and Economic Growth" that is raised by the United Nations as the Goal 8 of SDGs. "Co-operatives" must be given attention as a vehicle to realize Decent Work in developing countries. By establishing co-operatives, they can create employment opportunities and encourage workers in developing countries.
HONDA:
It's amazing that ILO is trying to solve labour problems in developing countries through co-operatives. The co-operative system which pursues the interest of the members first will be the source of work motivation, isn't it?
TAGUCHI:
I have heard that consumer co-ops in Japan have also supported developing countries through the distribution of CO•OP Brand Products. Would you tell me what co-op is aiming for through those efforts?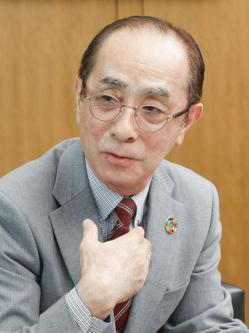 HONDA:
Co-ops in Japan have been promoting "Ethical Consumption" that is a consuming action in consideration for solution of social problems. For instance, we deal with Fair Trade goods and extend support to meal supply of school children** in selected developing countries through "CO•OP × Red Cup Campaign" which is an effort to support the "School Feeding Program" in cooperation with the Japan Association for the World Food Program (JAWFP). With these kinds of activities, we are trying to realize the Goal 12 of the SDGs, "Responsible Consumption and Production".
TAGUCHI:
In order to solve labour problems in developing countries, it is very important to improve not only the working conditions of factories there but also to raise the awareness of suppliers, retailers and consumers. Extremely cheap goods could have been produced by child labour or forced labour. Therefore, Co-ops which work on product development and supply and have close ties with the members are expected to play a key role.
HONDA:
Our selection in daily life changes the world, right? Lastly, do you have any message for Co-op?
TAGUCHI:
ILO marks 100th anniversary in 2019. I hope cooperation between ILO and Co-op will be promoted more on this occasion.
HONDA:
Thank you so much for your time.
*Toyohiko KAGAWA (1888-1960) is called 'Father of The Japanese Co-operative Movement'. He founded The Japanese Co-operative Alliance which became JCCU afterward and was installed as the first president.
**A campaign where one yen from the sale of the target CO・OP Brand Product is accumulated and donated to Japan Association for the World Food Program (JAWFP) for " School Feeding Program" that provides lunch for school children in the selected developing countries.