CO-OP Core Non Smile School Project donation presentation held
2019.02.07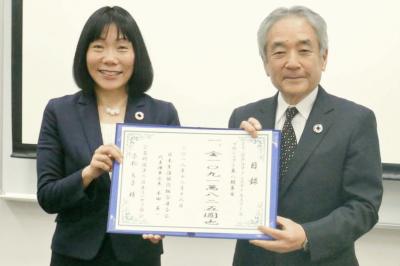 ARAI Chitose (L), Vice President of JCCU presents inventory representing the amount of donation
to Mr. HAYAMI Ken (R), Executive Director of Japan Committee for UNICEF
JCCU and its member Co-ops in cooperation with the Japan Committee for UNICEF had launched a UNICEF donation campaign under the theme "CO·OP Core Non Smile School Project" to raise funds to help improve the education environment for the school children in the Republic of Angola since 2010.
One yen from the sale of each pack of CO·OP Brand toilet paper "core non roll" is donated to UNICEF for the project.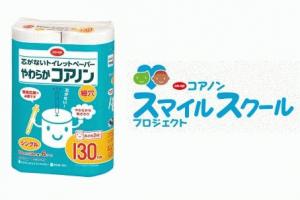 target CO•OP Brand Product (example) and the campaign logo
The eighth phase of the project was executed from November 1, 2017 to October 31, 2018. During this one year period, approximately 11 million packs were sold yielding an amount of 10.91 million JPY.
On December 18, 2018, JCCU held the eighth donation ceremony at the UNICEF House in Tokyo with the participation of representatives from core non roll manufacturers who have immensely supported this project.
At the opening address, Mr. SHIMADA Hiroyuki, the Managing Director/CEO of JCCU stated that consumer co-ops in Japan began UNICEF activities just after UNESCO proclaimed 1979 as the International Year of the Child. He further mentioned that co-op members have expanded their efforts in various ways, such as fund-raising on the streets, and raising campaigns through co-op stores and home delivery businesses. Besides, he said this project through CO·OP Brand Products is easier for Co-op members to participate in. SHIMADA concluded by saying that while also working in conjunction with SDGs, JCCU will continue to work together with the Japan Committee for UNICEF, the manufacturers and consumer co-ops nationwide to continue the project.
Mr. HAYAMI Ken, Executive Director of Japan Committee for UNICEF expressed his gratitude towards the donation by saying, "We believe that children's education is the irreplaceable cornerstone of peace, and we ask for continued support."
JCCU and the Japan Committee for UNICEF have agreed to continue this project till October 2019 aiming at
Installation of water supply facilities to the school, installation of sanitation facilities and support health and hygiene education.
Implementation of teacher training on education with a focus on children.
Research and promotion of adept school management, community participation and school improvement plan to make schools in Angola more child-friendly.