Shimane Consumers' Co-operative Union joined The Shimane Prefecture Disaster Prevention Training
2019.01.22
Shimane Consumers' Co-operative Union participated in 2018 Shimane Prefecture Disaster Prevention Training held in Matsue City on November 25. This event is performed once a year under the co-sponsorship of the Shimane Prefecture government and a municipality of the venue, in which the residents, the Self-Defense Forces, firefighters and private organizations join.
The training was carried out estimating the immediate-post-earthquake conditions in Shimane prefecture this year. First, a map exercise was done at the Shimane Prefecture Disaster Control Headquarters on November 22, and then the following actual trainings were performed on 25.
The residents' evacuation and safety confirmation
Setting up and controlling shelters by voluntary disaster prevention organizations
Supporting shelters and disaster-affected people by the prefecture and city governments and other organizations
Two staff from the Shimane Consumers' Co-operative Union joined the training to support the shelter. They loaded relief supplies at the Shimane Prefecture large area disaster prevention hub that is a collection point of emergency relief supplies and carried them to an elementary school which is designated as a shelter in the event of disaster.
The Shimane Consumers' Co-operative Union participant's comment:
With the realistic situation, we learned that it is difficult to secure the way to enter the elementary school which is a shelter and to unload the truck there without cooperation of the locals and management staff of the shelter. Besides, we were able to hear from the staff of Shimane Prefecture Truck Association, what they experienced when supporting disaster affected people in the earthquake and flood this year. The training gave us an opportunity to learn again the importance of cooperation and sharing information of the condition with the administration and other organizations.
Photo Gallery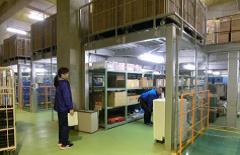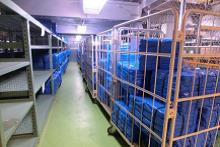 The Shimane Prefecture large area disaster prevention hub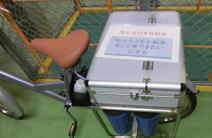 Bicycles equipped with a water purifier which are kept at the Shimane prefecture large area disaster prevention hub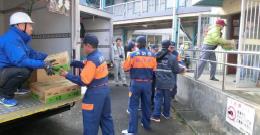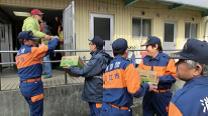 State of training in cooperation with Matsue City fire fighting group (Co-op staff in blue jacket, firefighters in dark-blue and orange jacket)