Co-op Kyosai Plaza received the 59th BCS Award
2018.12.13
JCCU completed "Co-op Kyosai Plaza" building in May 2015 as the headquarters of Japan CO-OP Insurance Consumers' Co-operative Federation (JCIF). It recently received the 59th BCS (Building Contractors Society) Award.
(L)State of award ceremony / (R)HONDA Eiichi, President of JCCU who participated in the award ceremony
The award ceremony was held at the Imperial Hotel Tokyo on November 16, 2018, and a certificate was awarded by the Japan Federation of Construction Contractors.
This award is given every year for the purpose of promoting the creation of good building assets in Japan and contributing to the progress of the culture and preservation of the global environment. Buildings that have been used for more than 1 year are eligible for the award, and planning, design, construction and maintenance are evaluated comprehensively. In addition to excellent design and functions, consideration to the surrounding environment and townscape, fusion with the community, and application of innovative technologies are also subject to evaluation.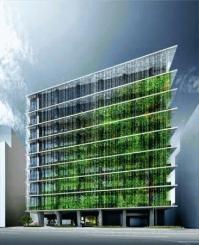 "Co-op Kyosai Plaza" is designed with the consideration of the environment and high business continuity. In this award, the most advanced passive design *, including the use of solar heat and geothermal heat, the use of well water, and the energy-saving air conditioning system (the desiccant air conditioner) that controls temperature and humidity separately was evaluated, as well as it is an environmental building that has an exterior where evergreen plants are laid by wire and chain gutters.
* Building method that can realize a comfortable interior space while maximizing the use of natural energy such as sunlight and wind
The data of awarded buildings were summarized as the "59th BCS Award Works Collection" written in both Japanese and English, distributed to foreign Embassies in Japan to be introduced widely in their respective countries as Japanese representative buildings. It is also available on the official website of the Japan Federation of Construction Contractors.
the "59th BCS Award Works Collection" (Japanese only)