'Sustainable Palm Oil Conference 2018-Post Olympic Games, looking to palm oil procurement in 2030'
2018.11.22
On October 22 2018, "Sustainable Palm Oil Conference 2018" hosted by Japan Sustainable Palm Oil Conference (JaSPOC) Executive Committee was held in Tokyo.
In Japan, palm oil is an indispensable ingredient used in a wide range of fields. This conference was held aiming to promote the procurement of environmentally friendly palm oil. JCCU and its subsidiary company CO-OP CLEAN CO., Ltd. co-sponsored this event with other companies.
Approximately 350 people from companies, organizations, NGOs, and media participated in the conference, and representatives from each field gave reports on how to procure sustainable palm oil followed by a panel discussion.
On that day, World Wide Fund for Nature (WWF) Japan, presented "Best Practice on Sustainable Palm Oil Procurement Award" and JCCU won the "Sumatran Elephant Award". This award recognizes companies and organizations which are playing leading roles in the procurement of sustainable palm oil in Japan which is still not easy to accomplish.
JCCU is the first Japanese distribution company to join the Roundtable on Sustainable Palm Oil (RSPO) for a sustainable society and was highly evaluated in its effort to advance environmental activities with individual members under the slogan "Shopping will change the future of Earth".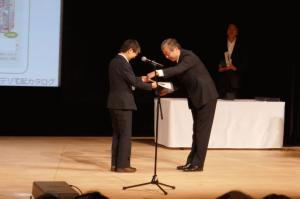 State of Best Practice Award
The Conference included the declaration of the launch of "Japan Sustainable Palm Oil Network (JaSPON) ", a network for sustainable palm oil.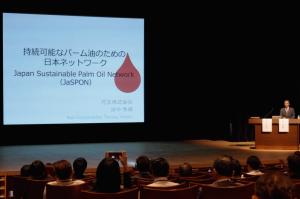 The state of JaSPON launch-declaration
The panel discussion took the theme "palm oil procurement looking toward 2020 and beyond". With FUTAMURA Chikako, Director, Member Relations Division as a coordinator, five speakers from the distribution and manufacturing industries reported their practical cases on palm oil procurement and exchanged views on the topic.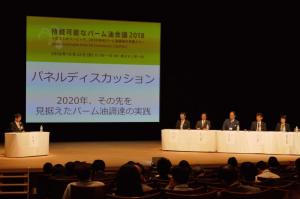 The state of the panel discussion
A common awareness was developed at the plenary session that in spite of the various efforts in expanding the procurement of sustainable palm oil, still there is difficulty for a single company/organization to solve the issue, and to spread the procurement of sustainable palm oil in the society, it is necessary to enhance the cooperation among concerned parties through JaSPON and to implement the practice throughout the supply chain.