Co-op Tohoku Sunnet Business Federation releases "Easy Brain Training" app
2018.10.23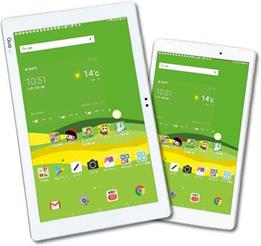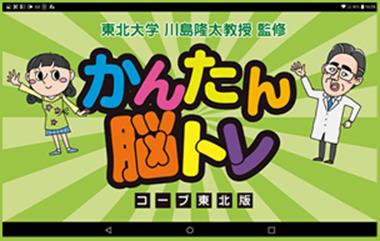 (L)"Co-op Tablet"/(R) the app "Easy Brain Training"
Co-op Tohoku Sunnet Business Federation has since 2015 started the sale of android tablet terminal "Co-op Tablet" through its subsidiary company Coop Communications Co., Ltd. In addition to the general functions of a tablet terminal, it incorporates special functions for co-op members, such as easy ordering of co-op home delivery products and the management of electronic receipts when using a co-op store.
On October 9 2018, Co-op Tohoku Sunnet Business Federation released the application "Easy Brain Training" for users of "Co-op Tablet". This application consists of several mini-games expected to activate users' brain, such as simple math puzzles. The app was developed, with the supervision of Prof. KAWASHIMA Ryuta, Director of Institute of Development, Aging and Cancer (IDAC), Tohoku University, aiming at contributing to the "brain health" of aging co-op members.
There are two unique features of this application.
The app aggregates users' game results by their ages. Based on those aggregate results, app calculates each user's brain age.
Points are awarded within the application when a user plays the game. Also, bonus points are awarded when the game is played every day. Accumulated points could be exchanged for discount tickets to be used at co-op stores. There are two reasons for this system. One is that the continuous usage of the app is thought to be more effective for brain activation. The other is that the co-op and the developers consider that in addition to playing the game at home, going out shopping is also important for the "brain health".
A research report indicates that there is mentally good effect when the brain is activated and it does not matter how early or late or at any age the training is started. Co-op Tohoku Sunnet Business Federation requires that the app be used not only by the elderlies but also by all generations, that is, the whole families of co-op members.