Expanding the sale of "Glaze-grilled Kindai Catfish" in co-op stores
2018.07.31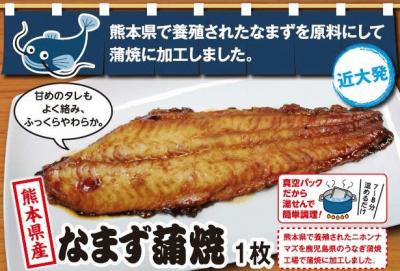 In 2017, JCCU started distributing "Glaze-grilled Kindai Catfish" to its member co-ops. It is made of full-farmed catfish by Nippon Namazu Seisan Co. Ltd. established by Kinki University in partnership with Makihara Yoman in 2015 to start working on catfish's stable farming and commercialization.
In 2018, JCCU started distribution of vacuum-packed "Glaze-grilled Kindai Catfish". The number of co-op stores selling "Kindai Catfish" expanded from 134 to 154.
To prevent the depletion of eel resource, after 6 years of research, Kinki University had succeeded in producing eel-like tasting catfish fully farmed in Japan as an alternative to eel. (Kindai is an abbreviation for Kinki Daigaku, or Kinki University.)
From the viewpoint of protecting fishery resources, JCCU had been considering product development using full-farmed catfish by sustainable farming, and came to distribute "Kindai Catfish".
JCCU is promoting MSC and ASC certified products aiming to protect the fishery resources. See our latest news on Shrimp Farming Project in Indonesia (internal link).