ICA-AP Training Program for Managers of Consumer Co-ops 2017 Winter
2018.01.15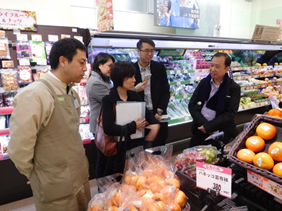 Twice in a year, in the months of July and November, ICA-AP in collaboration with Japanese Consumers' Co-operative Union (JCCU) organizes a training program for managers of consumer cooperatives in the Asia-Pacific region under the "Asian Consumer Co-operative Development Fund" established by JCCU and its member coops for the development co-operatives in Asia in 1987.


In November, the second batch of the 2017 fiscal year program was held from November 20 to December 3 2017, in cooperation with Co-opdeli Consumers' Co-operative Union and Co-op Kobe who provided the training grounds, facilities and resource persons.

It was attended by five co-operative store managers from NTUC FairPrice Singapore (Mr. HENG Jing Yi, Ms. NG Lay Chin & Mr. NG Ser Tiong) and Saigon Coop (Mr. TRAN Quoc Viet, Ms.HUYNH Bich Thuy).

The training module consisted of lectures, store training and tour of co-op facilities that allowed the trainees to learn extensively about the productivity improvement of co-op store business, how members voice are incorporated in co-op business and activities and the voluntary circle activities of the co-op members.

At the Co-opdeli Consumers' Co-operative Union, the group received lecture on outline of Co-opdeli Group and Co-op Mirai and paid visits to Coopdeli Distribution Center, one of Co-opdeli store and housing for the elderly with home-care services to learn about the welfare service business of consumer coops.

In Co-op Kobe, they received various lectures including the outline of the organization, efforts of business reform in store operation, quality assurance, staff education, customer service education, home delivery business and dinner delivery service, and a practical training at a store. At the end of the program trainees made presentation to the board members of Co-op Kobe.

They expressed their ideas about how they could use the training experience to solve practical solutions in their respective co-ops upon returning to their home countries. They returned home on December 3, 2017.