Hibakusha International Signature Campaign
2017.11.14
At the call of JCCU, efforts are being spread among consumer co-ops nationwide joining the Hibakusha Appeal, a signature campaign calling for an international treaty to ban and eliminate nuclear weapons.
The Japan Promotion Committee for the Hibakusha Appeal takes the initiative, in which a total of 40 citizen groups participate in response to the call from nine A-bomb survivors. The signatures literally convey the feelings of Japanese citizens towards the elimination of nuclear weapons, and intends to be submitted annually to UN until its General Assembly 2020.
JCCU approves the movement based on its founding principles as an organization working "For Peace and Better Life" and has participated in the Committee from 2016. JCCU also worked on signature activities in cooperation with consumer co-ops nationwide and received a total of 982,204 signatures from 165 co-ops as of September 26. Together with this number of signatures a total number of signature from nationwide gathered this time totaled 5.15 million and was submitted on October 5 to the chairman of the First Committee (Disarmament and International Security) of UN General Assembly 2017.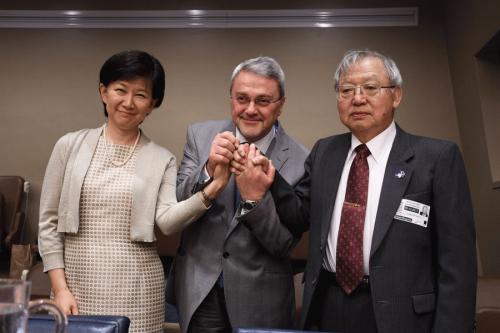 Photo provided by The Japan Promotion Committee for the Hibakusha Appeal
JCCU also hosts the events "Peace Action" being held in Hiroshima and Nagasaki every August, to tell the experiences of the atomic bombings and war to the next generation.