JCCU Collaborates with ILO office in Japan for a training program for African Co-operative Leaders FY2017
2017.10.16
Since 2010, Japanese Consumers' Co-operative Union (JCCU) in collaboration with the International Labour Office (ILO), especially the Regional Office for Africa (ROAF), the Cooperative Facility for Africa (ILO/COOP Africa), and ILO Office in Japan (ILO Tokyo), has been organizing study tour to Japan for African cooperative leaders with the aim to assist the human resource development of co-operatives in Africa.
JCCU is a member of the International Cooperative Alliance (ICA) with which ILO has a partnership agreement. ILO is the only institution under the United Nations (UN) that promotes cooperatives as models to address the economic and social needs of communities.
In that relationship, JCCU in collaboration with ILO have been working closely on the formulation of a program to assist the African cooperative movement to strengthen its capacity by introducing the good lessons learnt by the Japanese co-operatives.
From August 28 to September 6, the 8th ILO/JCCU study tour was organized in Tokyo and Shizuoka for four participants from Ghana, Kenya, Nigeria and Swaziland, while Ms. Sifa CHIYOGE, Regional Director of the International Co-operative Alliance (ICA) Regional Office for Africa, Ms. Simel ESIM and Ms. Mina WAKI from ILO COOP also joined the tour for the first time.
Participants visited various Japanese cooperatives in Tokyo and the surrounding prefectures including consumers', financial, agricultural, university, health and worker cooperatives, Kagawa Archives & Resource Center among others.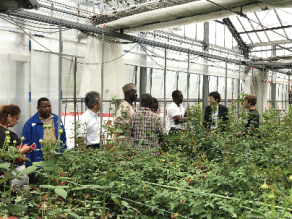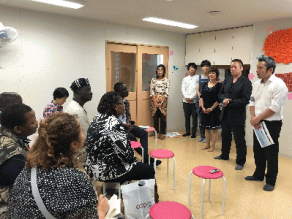 (R) Consumer coop delivery service (L) JA Shimizu rose farmer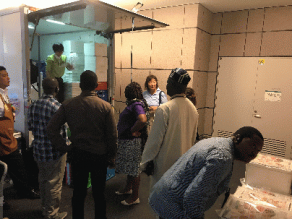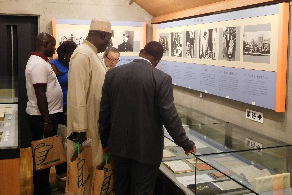 (R) Kagawa Archives & Resource Center (L) Worker coop members at a childcare facility
On September 5, to wrap-up the study tour a public seminar was held at Co-op Plaza (JCCU headquarters in Tokyo) which brought together 50 participants including officials from the embassies of Ghana, Kenya, Nigeria and Uganda. At the beginning of the seminar, Ms. ESIM and Ms. CHIYOGE presented their work and activities on cooperatives in their department, followed by the four African co-operative leaders who also gave brief introduction of their respective cooperatives and lessons learnt from the study tour. One of the participants said "One of the lessons from the Japanese cooperative movement is the importance of partnership with other organizations. I would like to enhance cooperatives' competitiveness through strengthening the basis of the cooperative movement in my country".
The participants were (in random order):
Mr.OTOO Samuel Addo (Ghana / Ghana Easy Investment Coop Credit Union)
Mr. Peter TALAM (Kenya / Magereza Savings and Credit Co-operative Society Ltd.)
Mr. Labaran Abdulkareem GARBA (Nigeria / Niger State Teachers Endwell Multi-Purpose Cooperative Union)
Mr. Musa Sydney SIBANDZE (Swaziland / Swaziland Farmers' Cooperative Union Limited).
On ILO website are the views of the participants about the study tour especially how the experience got could lead to the improvement of their cooperative businesses after returning home.
Click here to check the reports by participants (an external link to ILO website)