CX Cargo receives commendation award
2017.10.16
CX Cargo Co., Ltd. a logistics company which is a 100% subsidiary of JCCU received a commendation award from the Ministry of Health, Labour and Welfare (MHLW) for excellence in employment of persons with disabilities for the fiscal 2017.
In every September "Employment of Persons with Disabilities Promotion Month" is observed by MHLW. The purpose of this promotion is to motivate companies or organizations to have interest and concern to employ persons with disabilities and also encourage workers with disabilities to make effective use of their abilities in their work places and to become independent as capable professionals.
The Ministers Award is held every year and is intended to honor business organizations that are either actively using the services of a large number of employees with disabilities, or with employees with disabilities who have exemplified achievements as professionals. This year, 22 work places and 18 individuals were awarded. The awards ceremony was held in Marunouchi MY PLAZA (Tokyo) on September 5, 2017. YAMADA Hidetaka, the President of CX Cargo representing all the winners expressed his acknowledgment and thankfulness to the Ministry for the recognition.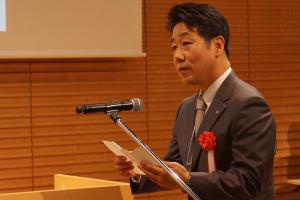 YAMADA Hidetaka expressing his acknowledgment